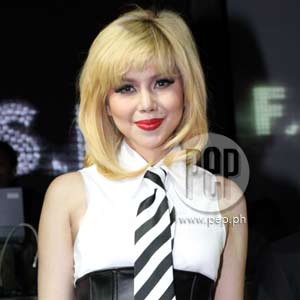 "I think a fashionista for me is just anybody who is brave enough to make a statement like, 'This is what I'm wearing. Like it or hate it, but it's me.' I think it's more of an attitude now," says FASH (Fashion and Style Hub) about the real fashionista nowadays.
Photo: Noel Orsal
"Fight for your fashion life with kembot," model-TV host Bianca Valerio repeatedly reminded the avid viewers of her fashion magazine show FASH (Fashion and Style Hub) on Lifestyle Network, which launched its second season recently at 7th High Club, Bonifacio Global City, in Taguig.
In an interview after the event, Bianca proves that being "fasyon" does not necessarily mean you have to be "sosyal."
Unlike the usual fashionistas, the FASH considers herself the "cowboy" and "beki" type.
"I know a lot of people are already getting intimidated by me or they say, 'Oh, she's from Alabang,' or 'Oh, she speaks like super fluent English.' So, they get a misconception about me. But I would like to think that, like what they said on the video, that I'm very cowboy," she told PEP.ph (Philippine Entertainment Portal).
For Bianca, gone are the days when fashion icons seem very hard to reach.
"It's so hard to keep up to being very 'sosyal', if I ever was.
"I think you earn more friends and fans that way if you're just as regular as you want to be," she said.
Bianca also stressed that a fashionista need not wear expensive clothes.
For her, a person should always remember: "You are your own trend. You just have to find the right resources to get that from, and once you find it, you can be more than what you can imagine."
AFFORDABLE FASHION. Speaking of getting the right resources, Bianca thinks that keeping up with the latest trend should not compromise one's budget.
She laughed while relating to PEP and other media, "I just get the chance to wear a nice clothes that are lent to us, you know. And I'm just grateful enough that I have resources, that designers send me clothes."
And if not really needed, Bianca would rather get new clothes from thrift shops than buy pricey outfits.
"I'm such a practical shopper. I shop in ukay-ukay. I don't buy expensive things," said Bianca.
She continued, "I'm a single mom so, I take pride in the things I buy. You know, I just take pride in showing people that you don't have to spend a lot of money to look good and feel good.
"You know, if you have the budget, why not? If it's your prerogative, why not. Just know that at the end of the day, whatever it is you're wearing, mabuti ka pa ring tao. Huwag chaka ang personality, di ba?"