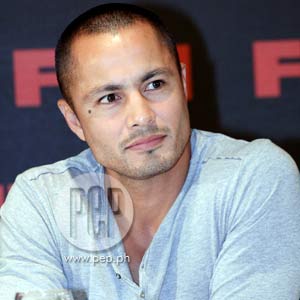 "The money invested is more on restoring the car. So, I look for cars that are beat up and cheap, and then I restore them. It's also a project. That's where I get the excitement and thrill, bringing these cars back to life," says Derek Ramsay about his interest in restoring vintage cars.
Photo: Noel Orsal
From a hand-me-down sedan, Derek Ramsay now has several cars in his garage.
The TV host-actor says ever since he was a kid he was fascinated with cars.
"It's always been my thing," he told PEP.ph (Philippine Entertainment Portal) in an interview after the media junket prepared for his newest auto loan endorsement with East West Bank recently.
"I don't know. Ever since I was a little boy, I've been into cars and watches.
"When I was in college abroad, it wasn't a priority to have a car but I still wanted one.
"And the allowance that I got from my dad, I used to save and purchase a car."
Derek's first car was a used Mitsubishi Lancer from his dad when he was 19. A couple of years later, the game master of The Biggest Loser Pinoy Edition was able to buy his very own car.
"My first car was a BMW na second-hand 1989, 525 na BMW," he recalled. "The first time I bought a car with my own money was, I think, 21 or 22.
"I'll never forget that feeling of excitement that my car is arriving."
INTEREST IN VINTAGE. Right now, Derek owns seven cars and most of them, according to him, were vintage cars.
And when PEP asked him about his favorite among his collection, Derek mentioned his fully restored 1961 Volkswagen Kombi.
"That's my favorite car," he said proudly. "I actually put it in a competition. I even have the original plate but it's all kalawang na rin.
"I think that's the car Angel dreads kasi, it's slow, it's mainit.
"But it's got so much personality and character.
"It took a while for me to find it.