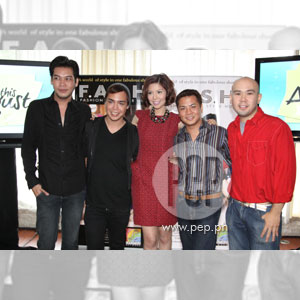 "Fashion is like life. It's how you make it," quips Bianca. She teams up with personal shopper Ram de Vera, celebrity stylist John Lozano, purveyor of style Ferdi Salvador, and stylist extraordinaire Borge Aloba for F.A.S.H.
Photo: Noel B. Orsal
Lifestyle Network cooked up something new for real women who want to look fabulous with budget-saving solutions. According to the creators of the show, this 30-minute show got all the best of all the show in TV today about fashion and put them all together in just one show. Its first airing was last Thursday, August 26, at 10 pm.
Fashion and Lifestyle Hub (F.A.S.H.) brings together all facets of fashion—from designers to image makers to products and services—to provide the tools for women to live life in the most fab way possible.
THE ENTOURAGE. The show is hosted by model and makeup expert Bianca Valerio who has been in the business of fashion for a long time.
"We're giving you experience rather than concrete products na kailangan niyo. We're giving you instruments that will make you feel fulfilled, practicing the philosophy that you can set your own trends. Kung feeling niyo kayo ang pinakabonggang babae sa balat ng lupa, then that is being fashionable," Bianca said.
Completing the entourage are the BFFs or "Bianca's FASH Four." They are celebrity stylist John Lozano, personal shopper Ram de Vera and purveyor of style Ferdi Salvador.
THE SEGMENTS. The show consists of baby segments which are reminiscent of some favorite fashion shows abroad. Quick, simple and easy fashion tips in just 30 seconds with Style 101. An in-depth look at an iconic fashion figure makes up the Style Diary. All for the love of the runway, F.A.S.H. has its own version, bringing worldwide trends to everyday life in Runway for Real. Black Book offers a historical yet stylish approach to iconic items, designers and everything else that make style to what it is today.
Out of the Closet gives everyday people the chance to revamp their closets. Hair and makeup take the spotlight in Beauty Affair. Most Wanted presents the hottest products and trends of the season. Catwalks of famous designers for the freshest and hottest collections are made accessible with Runway Patrol.
Fashion Patrol, on the other hand, will keep you updated on the latest events and happenings raided by fashionable people. Lastly, Street Style takes on the person-on-the-street job, checking out what the people are wearing out on the town.
So, what is new with this new show?
Bianca asserts, "We are not claiming to be the best. But we are here for a good purpose. We sincerely want to help people in what we do. "
What, really, is fashion for her?
Without blinking she exclaims, "Fashion is like life. It's how you make it."