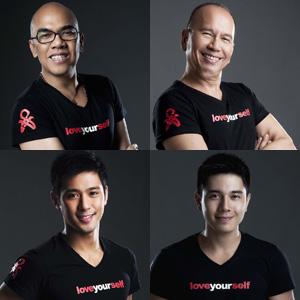 (Clockwise from top left) TV host Boy Abunda, movie director Joey Reyes, and actors Paulo Avelino and Rocco Nacino support the Love Yourself Project which aims to raise awarness about HIV/AIDS.
Photo: Ian Felix Alquiros/Love Yourself Project
December 1 is World AIDS Day and people commemorate the event by wearing a red shirt or pinning a red ribbon to their clothes.
Some of our local celebrities, however, participated in a photo shoot to show their support of the Love Yourself Project which seeks to raise awareness about HIV/AIDS.
According to a bulletin released by the Department of Health, reported cases of human immunodeficiency virus (HIV) have doubled this year.
From last year's 108 cases, the DOH reported 196 cases or an increase of 81 percent this year.
The Love Yourself Project helps prevent the spread of HIV/AIDS among the youth and key affected population through education and counseling.
It also provides free HIV confidential testing and counseling to the youth,"but not limited to LGBT-MSM who are the key population at risk for HIV/STD."
The organization plans to disseminate information about the disease through social media networking, community involvement, and advocacy focused, but not limited to the key population at risk.
To fund its programs, the group encourages the public—even celebrities—to participate in their photo shoots.
Another photo shoot is scheduled on December 18. Participants donate P1,000 which entitles them to one Love Yourself T-shirt or singlet; grooming services for the shoot; and one digital photo layout, in the style of "Love Yourself."
All profits will be used in the training of new HIV counselors who will help and assist the youth and key population affected by HIV/AIDS.
View our Gallery to see who among our local celebrities have lent their support to the project.