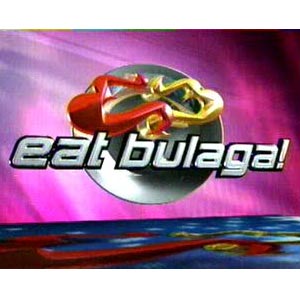 Eat Bulaga
, which made its television debut back in 1979, has etched a lasting legacy that encompasses more than three decades of making the Pinoys happy every lunch time.
Photo: Internet
"Some good things never last...," croons Barbara Streisand.
The song is true even for television programs. Given the stiff ratings war, the life span of boob tube shows often become just a flash in the pan. Once the viewers and advertisers start withdrawing their support, reformat or revamp is the solution for survival.
Only a few shows have successfully cracked the right formula. Some had a strong start, but were unable to keep the momentum. Others leveraged on the talent of the hosts or cast members, but the warm reception of the viewers was fleeting. A lot of variables constitute the longevity of a show, and up to now, television networks still practice trial-and-error and mix-and-match methods to capture a bigger audience share and sustain viewers' interest.
How does a show keep up with the ever-changing entertainment trends and tastes of the viewers? While a good concept and a novel gimmick can do the trick, history has proven that the effects are not for the long term.
PEP (Philippine Entertainment Portal) counts the shows that have shown tremendous survival instincts in the vast jungle called television.
EAT BULAGA. This noontime show has definitely become a showbiz institution. Eat Bulaga has time and again defied the changing seasons, shifting trends, stiff competition, and a slew of cast changes for 28 years.
The iconic show first saw the light of day on July 30, 1979, aired by Radio Philippines Network or RPN 9. The program's original core consisted of comic trio Tito Sotto, Vic Sotto, and Joey de Leon (TVJ). Tapped to support the triumvirate were Chiqui Hollman and Richie Reyes a.k.a. Richie d' Horsie.
It definitely pays to be the first. Eat Bulaga introduced many innovations and ideas that defined the concept of a variety show in Philippine television. In 1989, the show moved to ABS-CBN after RPN encountered problems brought about by its sequestration.
Right from the start, TAPE or Television and Production Exponents Inc. has been producing Eat Bulaga, making the program independent from the network. It is called a block-timer.
But with the dawning of the '90s, television networks saw the need to assert their power and influence as one corporate entity. ABS-CBN's fallout with Eat Bulaga was triggered when the Lopez-owned corporation tried to exert muscle by proposing to buy the show's airing rights from TAPE. The bid was rejected outright by its top brass Tony Tuviera and Malou Choa-Fagar.
In response, ABS-CBN made its Sunday variety show, Sa Linggo nAPO Sila, a week-long affair, and in the process, bumped the TVJ-led show from its timeslot. Consequently, Eat Bulaga was adopted by GMA-7, whose own efforts to topple EB with Lunch Date and Salo Salo Together all proved to be in vain.
Eat Bulaga made its debut under GMA-7 on January 21, 1995, via a grand broadcast at the Araneta Coliseum.
Outwardly, the newly christened 'Sang Linggo nAPO Sila, fronted by the equally legendary musical trio of Jim Paredes, Danny Javier and Boboy Garovillo, seemed an equal match to TVJ. But despite APO Hiking Society's musical brilliance, their show succumbed to Eat Bulaga's mastery of the variety show genre, plus the collective force of its cult following.
Through the years, the show introduced and nourished a lot of talents in show business—newbies who honed their chops and benefited greatly from EB in terms of exposure and mass popularity.
The co-hosts of Tito, Vic, and Joey came and went—Coney Reyes, Christine Jacob, Rio Diaz-Cojuangco, and Toni Gonzaga. But TVJ managed to hold the viewers' interest and fascination. Of course, during the course of its phenomenal run, Eat Bulaga also experienced a number of lows, as suggested by some rating slips. But like a true-blue veteran, the show has found ways to turn the tide back in its favor without resorting to drastic changes.
The debate on what makes the longest running noontime show in Philippine television tick has long been put to rest. Critics and observers say that Eat Bulaga has already been ingrained in every Pinoy's way of life. Add the fact that the masses have always identified with the show. It has indeed conquered the country from Appari to Jolo.
Pinoys here and abroad, and from past to present, have been quoted as saying, "Eat Bulaga baby ako, e," a proud affirmation of the show's lasting legacy in the hearts of its viewers.
MAALAALA MO KAYA. When Maalaala Mo Kaya premiered on primetime television in 1991, ABS-CBN revived a popular old concept that originated in radio-dramatizing true-to-life experiences that people wrote in letters they sent in by mail.
Credit the late Helen Vela for making Sunday afternoons weepy for every household around the metropolis through her TV program Lovingly Yours Helen. When the popular host died, she left a void in television viewing.

Enter Charo Santos-Concio, the renowned movie actress who turned network executive.
While Charo may contest being compared to Helen Vela out of respect for her legacy, it was ABS-CBN's Executive Vice-President who carried the heavy cudgels and ushered a new drama program catering to the then burgeoning TV-celebrity obsessed viewers.
What made Maalaala Mo Kaya survive the test of time? Its unflinching goal of presenting drama episodes with polished plots, excellent script, and topnotch acting all pulled the heartstrings of sentimental, nostalgic viewers.
MMK set the standards for short TV drama by transforming run-of-the-mill storylines into effective drama that could rival a two-and-a-half-hour movie.
BUBBLE GANG. Filipinos smile and laugh easily in spite of their woes. But when it comes to comedy, they're very hard to please. Comedy King Dolphy couldn't have been more correct when he once said that Filipinos are innately happy people, but it takes a lot to make them genuinely laugh.
Perfect timing, comic punchlines, and innovative ways of delivering jokes have made Bubble Gang a cut above the rest.
Inspired by the success of ABC 5's evening gag show Trupong Trumpo, GMA-7 came up with an idea that would turn out to be the longest running and perhaps the most successful gag show in local television. Incidentally, Bubble Gang's top mainstays, Ogie Alcasid and Michael V, originally came from Tropang Trumpo.
Debuting in October 1995, Bubble Gang had to go through all the growing pains before achieving enormous success in the field of TV comedy.
After years of experimenting,
Bubble Gang
eventually found its voice and the
kiliti
of the masses, mainly through spoofs and parodies on events, people, and just about anything in popular Filipino culture.
The show effectively realized the importance of not overdoing a current popular segment so as not to wear the concept down. This was apparent when the show decided to pull out Ang Dating Doon-a spoof of the religious program, Ang Dating Daan-from its regular segments after it enjoyed tremendous popularity.
Bubble Gang also gave birth to popular characters such as the Sexballs, Taong Grasa, Bel Tiongco, Michael Ricketts, to name a few. They also launched popular segments such as the "Myusik Tagalog Bersyon or MTB" where Michael V translates an English song into Tagalog literally.
This year, Bubble Gang turns 12. And as a treat to the countless viewing fans of the gag show, they're releasing the movie DoSeNa.
THE BUZZ. ABS-CBN's showbiz talk show is obviously keen to add more gloss to an already glittery industry like show business. For eight years now—most moms, young women, and teens have reserved their Sundays for chika.
Aside from exciting gossip, The Buzz boasts celebrity hosts who make the news. Remember Kris Aquino's "STD" issue? What about her wedding announcement and her visit to James Yap's hometown? And baby James's baby diary? We all witnessed the highlights of the loquacious former host's life on The Buzz.
When Kris left to spend quality time with her family, viewers thought they'd see less controversy, but they were wrong. No less controversial actress Ruffa Gutierrez was officially introduced as the new co-host last June 2007. The former beauty queen greeted the country with her marital woes.
Of course, the show would not be complete without Boy Abunda, the highly opinionated talent manager-turned-host and Cristy Fermin, a veteran reporter.
Last year, The Buzz successfully beat its long-time rival S-Files, which GMA-7 replaced with Showbiz Central.
STARTALK. For a show that struggled badly during its infancy, it's astonishing that GMA-7's StarTalk is still making loud noise every Saturday.
StarTalk's first airing took place on November 19, 1995. Its first batch of hosts included Boy Abunda, Kris Aquino, and Lolit Solis. At first, the show fared miserably, but it gained ground when exclusive scoops and shocking revelations became part of their weekly showbiz menu. "Da Who" and "Tigbak Authority" segments were also launched, changing the conventional way of showbiz reporting. The program is now dubbed as the "showbiz authority."
According to Wikepedia, StarTalk's turning point happened in December 2005 when it made a scoop with the separation of Gabby Concepcion and Jenny Syquia. The alleged reason: wife battery. A string of exclusive stories soon followed—the Jojo Veloso scandal and Rosanna Roces's public admission about her real civil status. This year, one of its finds, Hope Centeno—the woman who claimed she had an affair with Kris Aquino's husband James Yap—became the talk of the town.
One of its original hosts, Kris Aquino, left GMA's fence and consequently, StarTalk. Rosanna Roces's entry to the show in 1997 bolstered StarTalk's character as a talk show. Osang's candid comments and daring outfits consistently threw the MTRCB into a fit, which in effect, made the viewers curious and the show victorious.
In contrast to The Buzz, StarTalk's image is louder, confrontational and tabloid-like. It's very masa!
At present, the show is hosted by Butch Francisco, Lolit Solis, Lorna Tolentino, and Joey de Leon.
UNANG HIRIT. For a morning show to last more than five years, its achievement is quite impressive. Why? Because viewers' attention span is short on such an ungodly timeslot. The market consists of moms preparing meals for the family or office people getting ready for work.
GMA-7's Unang Hirit made its first appearance in 1999. For a time, it seemed like it was destined to live under the lurking shadow of its competitor Alas Singko Y Medya. However, being able to find the right balance between serious reportage and a light magazine format, UH effectively turned the competition around, and from then on, managed to sustain its success.
Its tone is light and breezy, just right for a person who has just gotten out of bed. The reportage gives information without intimidating the viewers. Its hosts enjoy a tightly knit relationship that can be felt even outside the four corners of the studio. And its fun segments cater to all age groups, making the versatile show exciting to watch. And let us not forget Unang Hirit's lucky charm Arn-Arn, the puppet who completes the entire package.
ASAP. Kapamilya's ASAP stands for "All-Star Afternoon Party." In line with the shifting direction of television programming in the '90s, the show aligned its concept to the preferences and tastes of its target market-the youth and the so-called "yuppie" audience.
ASAP's initial telecast took place on February 1995. It was launched with veteran performers and a beauty queen—Martin Nievera, Pops Fernandez, Ariel Rivera, and Ms. Universe Dayanara Torres. With its high-powered production numbers and showdowns, ASAP was able to assert its identity apart from the noontime shows.

But the variety show was not only about its party vibe image. In 1998, Martin tearfully resigned on air, confessing that his marriage with Pops was floundering. So many changes have happened ever since.
Today, ASAP intensifies its concept by increasing the visibility of younger performers, who also serve as co-hosts to Mr. Pure Energy Gary Valenciano and Divine Diva Zsa Zsa Padilla.
SOP. Sunday noontime variety shows drastically changed since German Moreno's GMA Supershow. Gone were the Belle Star Dancers as well as the foggy smoke effects that regularly infiltrated the stage.
GMA-7 launched SOP—meaning "Sobrang Okey, Pare"—in 1997 to compete with ASAP. The interactive musical variety show assembled a few of the country's best singers to become the hosts—Regine Velasquez, Cacai Velasquez, Ogie Alcasid, and Janno Gibbs. When Cacai left, Jaya entered the frame, and soon, Lani Misalucha also became part of the group. These singers have earned the show its "concert TV" tagline.
SOP also came out with controversies. For instance, Rufa Mae Quinto, who became a favorite target of the MTRCB because of her daring outfits; and of course, the controversial couple Ogie Alcasid and Regine Velasquez.
In addition, SOP has served as a playground for GMA-7's growing stable of young talents.
All these shows enjoy success to the hilt. They survived the odds. They have achieved their common goals: to keep viewers updated and entertained. What made them click? The right people, a touch of artistic creativity, a pinch of foresight, and a huge reserve of innovativeness.
And let's not forget the power of luck.