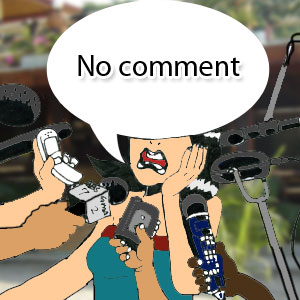 PEP's Top List now brings you showbiz's 10-plus most used showbiz answers and expressions. No, it's not deja'vu! You've heard these familiar words from the stars before and you'll continue to hear the same for years to come.
Photo: Rommel Llanes
Fans always look forward to their favorite star's take on the news— controversial or not—about their lovelife, feuds, latest project, what-not. You check out the tabloids, tune in to a favorite showbiz talk show. You read or listen patiently, maybe imagining the kind of answer your fave is about to give. At the height of anticipation, s/he mouths these immortal words:
"No comment."
Poof! The moment is suddenly lost. You instantly realize that all you waited for was a cliché. Nonetheless, fans eagerly follow the story the next time around, even if the issue takes weeks.
Okay then. Why do our local artists resort to these overused answers and expressions?
For one, "No comment" has become a trend among our favorite celebrities. It's automatic—and safe. It keeps everyone from learning the real deal, which, of course, won't last long. It extends the star's air time and generates rumor-frenzy among fans and showbiz media. The tried and tested reply definitely still works. People automatically get the idea that the star is just not ready to say anything and is trying to buy time.
Other noteworthy expressions, handed down from one celebrity to another, really stick to memory. Scroll down and find out The Most Used Showbiz Answers and Expressions.
Hindi kami and We're just friends. Showbiz relationships can either make or break an artist, especially for rising stars, so it's always safe to utter such denials or oblique replies in order to test the waters on questions like, is their "budding relationship" is acceptable to the public?
The famous love teams of That's Entertainment had abused these lines. So said Polo Ravales recently when asked by the media if he and Jean Garcia were already an item.
Nandito lang ako para sa kanya. This answer has a lot of uses. It can be a pledge of support for a fellow artist (who unfortunately got embroiled in a controversy), a promise to his/her better half or an assurance to an ex-lover.
Recently used by John Prats when asked about his status with Shaina Magdayao.
Walang third party. Whenever a relationship between a celebrity couple turns sour, this is the number one answer to speculation on why the lovebirds broke up.
Dennis Trillo said so when news broke out that he and Carlene were no longer a couple. When Christine Reyes' name came up, he used this answer.
We wanted to save the friendship. Probably not wanting to spill out the exact details on why a showbiz couple broke up, one of them or both can use this perfect answer.
Christian Bautista replied thus when asked why on earth he and fellow singer Rachelle Ann Go split.
I'll just cross the bridge when I get there and I'm not ready yet. Usually, these answers fall under those sexy-themed questions, like whether a hot celebrity would ever pose for a men's magazine or star in a sexy film. You can also expect to hear this kind of answer on controversy-related questions, like if an artist was ready to forgive someone, etc.