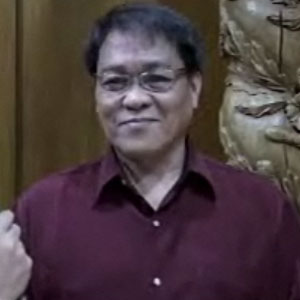 Comedic impersonation has paved the way for actors such as Willie Nepomuceno to think beyond the norm and take the challenge of being funny in more than one persona.
Photo: Noel Orsal; Video grabs from YouTube and GMA-7
Try looking and talking exactly like a Philippine president. Or seamlessly imitating a Hollywood/local showbiz celebrity. Be sure to have the proper costume, makeup, and wig. Dramatize a typical situation or interview, exaggerate your gestures—all the while keeping the original personality traits, mannerisms, and voice intact. Above all, as if it was the easiest thing to do (which isn't), make the audience laugh!
That's impersonation. We're not talking about look-alikes in scandal-mongering Net videos, of course, or fraudulent posturing that could land you in court and/or jail.
As a form of stand-up comedy, impersonation is similar to, and may include, impressionist techniques. An impressionist, like the popular Frank Caliendo in the U.S. who does Pres. Bush, can tell relevant anecdotes or do a mock interview while impersonating his subject. He creates one solid impression; for example, a stupid Bush pretending to be in authority.
Impersonators put themselves completely in the shoes of whoever they want to satirize or make fun of, whether that public figure likes it or not—the more controversial, or adored, the better. The whole package, from makeup to unique speech accent, portrays the real-life person with funny twists and turns. It can be a one-person stand-up act or part of a TV show, movie or play. Impersonators also dance and sing expertly like their chosen showbiz personality.
And so, audiences come away with impressions that may intensify what they already know of the personality or with a new way of looking at fame, human frailty, social manners and politics.
Many Filipino actors and actresses have ventured into impersonation but only a select few can be so hilarious that they're famous for whom they're not in real life. Performers like Willie Nepomuceno, Tessie Tomas, and Jon Santos have all been successful in this field. It's a wonder that they can perfectly imitate not just one but various personalities in different fields.
Comedians who create their own character are of a different class and caliber, and so, are not included here. Worth mentioning is TV director Jun Urbano who created the Mongolian Mr. Shooli on IBC-13's Mongolian Barbecue (1989-99) and who entertained audiences mainly through political satire.
Here are PEP's Top Ten impersonators/impressionists, who are among the most sought-after in showbiz.
WILLIE NEPOMUCENO. Willie Nepomuceno, the Philippines' Master Impersonator, has portrayed more public figures than anyone in the business. He started his art as a hobby in childhood, to impress uncles and aunts during family gatherings. His favorite then was imitating the singing icon of the '50s and '60s, Sylvia dela Torre. Only in college did Willie discover that people pay good cash to watch an impersonation.
Originally, Willie wanted to become an actor or a singer. But strict requirements for wannabe actors kept him out. "Dapat pogi, eh hinde naman ako puwede doon!" He chose instead to impersonate the top stars of the day: Victor Wood, Edgar Mortiz, and Tirso Cruz III, among others.
In his first stint as an imitator, Willie only did voice changes; eventually he imitated his subject's look as well. His performance was so smooth, Willie could be Erap in one minute then switch to Dolphy in the next. He also imitated former president Fidel V. Ramos, the late Fernando Poe Jr., and even Jaime Cardinal Sin.
TESSIE TOMAS. The Original Queen of Daytime TV may be considered an inspirational stand-up comedian because the characters she portrayed—Amanda Pineda, Margarida, Meldita, among many others—paved the way for Jon Santos, Allan K, Candy Pangilinan, and other actors to include impersonation in their repertoire.
Tessie's creativity brought her into some of TV's most watched programs, like Teysi ng Tahanan, Compañero y Compañera with Rene Cayetano, and the sitcoms Onli in da Pilipins, and Abangan ang susunod na Kabanata. Her style and distinctive approach on comedy look almost natural and lifelike that people might forget that they're looking at Tessie.
Most Notable Impersonation: "Imelda Marcos"
JON SANTOS. One of the few actors who can impersonate a man or a woman with perfect ease and gusto is none other than Jon Santos. His forte lies in his makeup and costume, becoming a funnier version of the person who's lucky enough to be imitated by Jon.
Jon has been impersonating people for more than 19 years now. He focuses on what's hot in the current scene, be it in politics or showbiz. Among his favorites are Vilma Santos, Juan Flavier, Kris Aquino, Miriam Defensor Santiago, and even the difficult ones like Ara Mina, Maui Taylor, and Oprah Winfrey.
One of Jon's most notable impersonations is "Vilma Santos."
JOEY DE LEON. Joey's natural comedic aura and cheer have won him the laughter of many fans by imitating some of America's cultural icons like Tarzan, He-Man, the Lone Ranger, Barbie, Superman, Mighty Mouse, Elvis Presley, and James Dean.
These acts, represented in his old films, have brought him box-office hits on a shoestring budget. How come? You won't see the real Tarzan get hit on the head by a three-foot supporting actor. That's an instance of Joey's creative humor and resourcefulness.
Parodies of certain people may bring on criticism, of course, but Joey's wit and his ability to capture his mass audiences allow him to get away with it.
Most Notable Impersonation: Fernando Poe Jr.
MICHAEL V. The Master of Disguise, according to his fans, is more like a cartoon character than an impersonator whenever he imitates a person—or even a group of people—in the GMA-7 gag show Bubble Gang.
Bitoy, as he is commonly known, is a pioneer in turning impersonation to the next level by exaggerating a person's looks and voice, usually emphasizing one feature, like a mole perhaps.
With over 50 impersonations to his name, it's no small wonder that Bitoy can even imitate fictional characters and foreign actors. Among his best impersonations are Jet Li, Mike Enriquez, Regine Velasquez, Jon Bon Jovi, and many more.
Bitoy not only impersonates actors and political figures but singers as well. Not only that, he can make a joke out of the artists' songs by creating hilarious new lyrics.
Most Notable Impersonation: Mike Enriquez
JOHN "Sweet" LAPUS. The ever-bubbly host of Showbiz Central did a good impersonation of Sheryl Cruz back in the days when he was still a contestant in gay beauty contests.
This PEP blogger can also sound like a very convincing Inday Badiday. It was in Rock da Vote where he unleashed his talent as an impersonator, and fellow stand-up comics like Jon Santos and Tessie Tomas definitely made everything more amusing than usual.
John is no pushover when it comes to comedy. He is confident, and can go head to toe with nearly everyone in the business. His comedic imagination is relentless and he can easily whip up a short skit that would send everyone in stitches.
Truly, the Teatro Tomasino alumnus uses his talent in doing what he does best: comedy.
Most Notable Impersonation: Kris Aquino
GISELLE SANCHEZ. Giselle Sanchez looks like a beauty queen with her poise and dignity. Pitch in a smart brain and you've got the perfect package. Giselle could easily pass for a sexy star but chooses instead to be a sexy comedienne, perfect for the men in her audience who can hardly keep their mouths shut—not from drooling, mind you, but from laughing at her antics and "don't give a damn" attitude. Stand-up comedy is a breeze for Giselle.
The U.P. Mass Communications graduate became part of an organization in college (Samaskom) and performed for the organization's annual musical-comedy-variety show, Live A.I.D.S. It was Tessie Tomas who discovered Giselle's playful personality, and eventually got her a small part in the sitcom Abangan ang Susunod na Kabanata.
From playing trigger-happy in Abangan to portraying a wisecracking maid in Pugad Baboy, Giselle has definitely stayed on to be one of comedy's funniest (and probably sexiest) celebrities. Her repertoire of naughty humor and playful disposition make her a sought-after performer not only here but abroad as well.
CANDY PANGILINAN. Another one of Rock da Vote's prized comedians is Candy Pangilinan who, with her fellow stand-up comics, creates a series of riotous impersonation comedies. Candy's razor sharp wit has brought her success in skits and solo performances—most notable of which is her Candy's Be Love concert.
Candy's portrayal of Senator Miriam Defensor-Santiago is probably her most natural and convincing impersonation, mainly because of the acute reference to the senator's stern bearing and matchless diction.
Most Notable Impersonation: Miriam Defensor-Santiago
MANNY POOH-QUIAO. Pooh, whose real name is Reynold Garcia, can easily be mistaken for the People's Champion as he possess nearly every facial feature—hair (especially the bangs!), moustache, and the distinctive accent. Looks alone won't convince a crowd but Pooh can move nearly the same way as the Pacman, and can pull off a convincing one-two punch and finish it off with a punch line.
Pooh was first heard cracking jokes and stories as an in-house performer at a comedy sing-along bar in Malate, Manila. His impersonation of Manny Pacquiao during those times were light, but became a more serious affair when the boxer became a household name. Pooh's extensive research on Manny's mannerisms earned him a ticket to celebrity status as he soared with the champion boxer's fame but on the comedy route. TV guestings and opportunities to perform in major comedy bars earned Pooh a place among some of the best stand-up comedians to date and, in time, became household name himself.
RENE BOY FACUNLA. Rene Boy looks like your average comedian until he transforms into Ate Glow, the funnier (and much better) version of the President of the Philippines.
His impressive impersonation of Gloria Macapagal Arroyo can truly convince the unwary as he is faithful to every detail without crass exaggeration. Rene has imitated other personalities such as Jolina Magdangal and Nora Aunor but it was his GMA impersonation during the campaign period that made his mark.
So, the next time you bump into Erap or Ate Vi or Kris, make sure they're the originals! Our very own impersonators are that good.