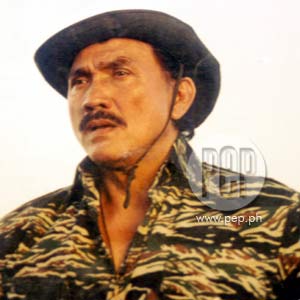 In his heyday, Ramon Revilla Sr. popularized the agimat (amulet) of Filipino folklore as he successfully portrayed fictional and real-life characters in his films. His performance in such fantasy films during the '70s and '80s earned him legendary status in the film industry.
Photo: Main: File photo; Thumbs used with permission from video48.blogspot.com
Ramon Revilla Sr. did not grow up wishing to be an action star. His was an ordinary childhood that led him to a predictable college education, which he finished with a Bachelor's Degree in Commerce. Eventually, the enticing world of show business reeled him in. He started out as a bit player in the '50s. After more than a decade, he left show business in 1968 with the film Liku-likong Landas as his last project. A showbiz career seemed to be out of the picture for him then. He spent seven years (1965-1972) as the head of the Secret Service Unit for the government's Customs Bureau. During his tenure, the government employee worked well and earned a perfect record.
Revilla quit his job and then heard the tantalizing "siren call" of show business again. He decided to heed it and take another chance.
And he got lucky. When he reappeared in the industry in 1972, the limelight shone more brightly, thanks to his blockbuster Nardong Putik. This movie about the real-life criminal escapades of Nardo and his magical amulet led to similar films that made the name Ramon Revilla Sr. synonymous with the word agimat. In the following years, his son Ramon "Bong" Revilla Jr. continued the legacy by creating his own roster of fantasy and action films as an actor in his own right.
ABS-CBN has announced it would pay tribute to some of Ramon's films by creating TV adaptations of the following films: Pepeng Agimat, Tiagong Akyat, Elias Paniki, and Tonyong Bayawak via their special fantaserye, Agimat: Ang Mga Alamat ni Ramon Revilla. On August 15, Tiagong Akyat, starring Gerald Anderson, will be the first of the four agimat classics to air.
On this occasion, PEP (Philippine Entertainment Portal) lists five of the best Ramon Revilla movies ever to hit the silver screen.
Nardong Putik (1972). This comeback film of Ramon Revilla Sr. was definitely his best. It broke box-office records with his perfect portrayal of Leonardo Manecio, a "Robin Hood" type of criminal who attributed his survival skills to wearing an agimat. The talisman supposedly shielded him from bullets and from the police whenever he hid in mud-filled paddies, hence the name "Putik." Luck ran out, however, when the police finally hunted him down and shot him in 1971.
With his background as a government agent, Revilla did an excellent job in portraying Nardo and how to act and react in real-life situations.
The movie marked the start of his career as an action star and made his production firm Imus Productions financially stable.
While portraying the life of Leonardo Manecio, the film accentuated his lucky charm and heralded the popularity of agimats and the like in succeeding movies. Twelve years later, Nardong Putik-Version II came out in 1984 with everything in the film revamped. It focused primarily on interpreting the story to the new generation of Ramon Revilla fans.
Hulihin Si...Tiagong Akyat (1973). Revilla came up with another blockbuster less than year after the success of Nardong Putik with his portrayal of Santiago Ronquillo alias Tiagong Akyat, a notorious felon who operated in the 1920s.
The alias was due to his parkour-like skills in scaling homes to ransack valuables, sometimes in full view of its occupants. Back in the 1920s few people had gates to their property, and so Tiagong Akyat could just break in through the front door.
Rumor had it that he possessed an agimat that made him invisible, the perfect power for his chosen profession. Though branded a notorious thief, he was believed to have robbed the rich to help the poor, just like another Robin Hood. In 1923, however, the unarmed thief got the business end of the bullet (in this case, a hail of gunfire) when he was cornered inside a house by a force of police constables.
Though the film was historically inaccurate and relied mostly on rumors about Tiagong Akyat, it was well received by the public and again raised box-office charts.
Joaquin Burdado (1988). The fictional comic-book hero from Carlo J. Caparas's graphic novel, created in the late '70s, was enacted by Ramon Revilla in 1988 where during that time, was the coolest thing because of its effects since tattoos coming to life (and in film!) was just a breakthrough in the late '80s.