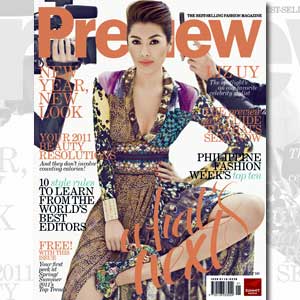 Find out more about Liz Uy by grabbing your copy of the January-February issue of Preview, available in newsstands, bookstores and supermarkets nationwide. For your daily dose of fashion, visit StyleBible.ph. You can also become a fan of Preview on Facebook via Facebook.com/preview.ph and follow us on Twitter via Twitter.com/previewmag.
Editors hardly ever grace the cover of magazines, most certainly not of their own title. But this January, Preview magazine makes an exception as it features its very own fashion editor-at-large Liz Uy on the cover.
There has been a clamor to get to know Liz better, as she hardly ever grants media interviews despite finding herself in the limelight. She first entered public consciousness when she dated matinee idol John Lloyd Cruz, and again made headlines after President Benigno Aquino Jr. announced that he and Liz , who had been appointed Presidential Stylist, were dating.
The January-February issue of Preview gives the public what it has always wanted: an in-depth look into the life, career, and dreams of Liz Uy.
WHY LIZ? "We've actually always stuck by the rule to avoid featuring ourselves. But as Liz gained popular acclaim, it became increasingly difficult to stick to this rule," Preview editor-in-chief Pauline Juan says, as she herself pens this month's cover story, "There are many perfectly logical reasons why I should run a feature on Liz, but I finally relented after it came to me in a dream to put her in the cover."
Liz's name continues to float around in the rumor mill, as people now surmise that she has dumped the President. Liz has always been mum about the issue, but Juan writes, "In many ways, the pairing was doomed. Even if P-Noy and Liz weren't dating under the intense glare of the media spotlight, there were always the marked differences in their personalities and lifestyles. There was no way they would be able to nurture the relationship given his schedule, and hers as well."
After being linked to a matinee idol and the President of the Philippines, Liz now has a string of product endorsements, plans to start her own clothing line, and even an offer to co-host a TV show (which she declined because "I don't feel confident in front of a TV camera").
"I'm grateful for everything that's come my way." Liz says, as she recalls her early days at Preview. "I started from the very bottom. I was taping shoes, pulling out merchandise, ironing and steaming clothes, renting mannequins... I did everything that an assistant does."
In just five years, Liz rose from editorial assistant to fashion editor, and continues to gain even more acclaim in the fashion industry.