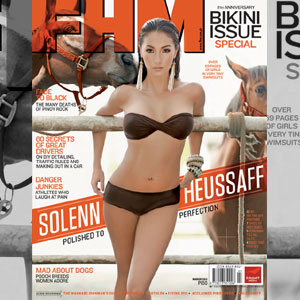 After 36 days of being a castaway of Survivor Philippines, Solenn Heussaff emerged as the most enduring female on the island. She's now back to her normal self, but her life is no longer normal. The instant celebrity, as decribed by the magazine's kicker, is "polished to perfection." See more of Solenn Heussaff by grabbing a copy of the March issue of FHM, available in newsstands, bookstores and supermarkets nationwide for only P125. For more of FHM online, log on to www.FHM.com.ph and become a fan on Facebook, www.facebook.com/FHM.ph. FHM is also now available in e-magazine format for your iPads, Kindles, and other e-readers! Find out how to get the FHM e-magazine at www.fhmdigital.com.ph.
Photo: courtesy of FHM Philippines
As it continues its reign as the number one men's magazine in the country, FHM celebrates its 11th anniversary with 60 pages of Bikini Special, which will show sizzling FHM babes photographed on the beaches of Baler, Cebu, Davao, Subic, and even Australia.
Gracing its cover this March is the unsullied Filipina-French Solenn Heussaff, who gamely flaunts her natural curves and hot assets, and exclaims confidence is sexy!
"No matter if you're wearing a garbage bag or a gown, you'll still be sexy," she tells FHM. "In France, we have a lot of nude beaches. Girls are not really shy about showing anything. Walk in the streets of France and you'll see women wearing T-shirts or sandos with no bras. For them, it's just normal."
Prior to her 36-day stint in Survivor Philippines' celebrity edition, Solenn was more popularly known in her circle as a painter, designer, make-up artist, and socialite.
"I will comment on being a socialite," says Solenn. "I think the tag really came from Survivor. I guess they had to show different types of people who had to live together—the actress, the sports guy, the socialite. Instead of calling me a designer or make-up artist, they decided to call me a socialite because most of my friends are in the "elite" group. I have all kinds of friends but the ones they usually see me out with are my artista or model friends. Or maybe because I work in fashion, so that's how they tagged me."
Get up close and personal with Solenn at the first-ever FHM Bikini Heaven beach party happening on March 19, 2011 at Epic Beachfront, Boracay!
Join FHM for this one-night-only, hot and sexy party filled with special performances from the cover girl herself, Bangs Garcia, Wendy Valdez, Nina Jose, and special appearances by Sam Pinto, Ellen Adarna, Rich Asuncion, Regine Angeles and more. Tickets to this event will be available on site for P500.