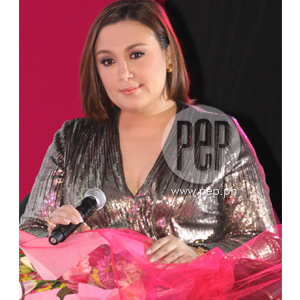 Sharon Cuneta on baby Miguel: "He's the light of our life now, and 'yan, [he] calls me 'Mama.' But his best friend is his dad. But I'm kinda nahihilo kasi iba pala pag boy. Ang likot!"
Photo: Noel Orsal
Sharon Cuneta is up, and she's 20 lbs lighter!
After her "fantastic fall" at the Big Dome—where her birthday concert was held last January 11—the Megastar is back to her usual jolly self, and greets the press and media people present at the launch of her new endorsement today, January 19.
"I didn't suffer anything from it," says the Kapamilya star. "It's just that, I think it aggravated my...I was...it was basically exhaustion. Not my fall, it wasn't caused by the exhaustion...Yung heels ko, they made a mistake. Actually, my staff...Well, nobody brought my dancing shoes."
Moving on, her birthday celebration continues at the Mandarin Hotel, where she announces, "I signed up with Marie France in second quarter of last year, and I started the treatment in July."
So far, she has already lost a few lbs and 24 inches all over her body even if her visits to the clinic have been "on and off" due to her showbiz commitments. And she's very serious about her goal to "become slimmer and healthier again."
She relates, "This time, I'm gonna do this steadily, not as slow as if I'm going to do it alone. No, because I know whatever treatments they have will help me speed it up. But not too quickly that my body will suffer because it's not healthy to lose weight too quick also. Take it from me."
The mother of four attributes her weight gain to "babies" and the ill effects of "crash dieting," which she describes as "talagang starvation mode."
(According to www.weightlossforall.com, crash diet "slows down the metabolism, causes extreme food cravings, and is dangerous for your heart, kidneys, liver, and brain because you lose lean tissue around them.')

The Star Power host continues, "When I get to rest from that diet, the rebound weight would be horrible."
Her decision to become more fit was motivated by her desire to have a more active lifestyle. "I've always wanted to have a nice long walk with my children, not naman marathon... It's to keep up with them pag naghahabulan diyan. When I tickle them, hindi ako hapung-hapo agad."
Partly, she's also going to do it for work, "I couldn't possible finish a movie if I have no energy. I wanted to give my fans my best..."
A LOT TO THANK FOR. But Shawie (her nickname) still considers herself "very blessed" because the extra weight did not turn off her loyal Sharonians, and did not drive away projects.
This early, she already has a busy calendar year. She enumerates, "End of the month, I'm leaving for the States. I'm doing three shows outside of San Francisco-Cache Creek [Casino Resort]...And then I come back, continue with Star Power.
"I'm not doing a Valentine show this year, my husband wants me to himself...And then, February, we will have the finals of Star Power. By March, I'll start the Biggest Loser Pinoy Edition, and then shooting a movie already. And then I'll have a concert tour in Europe in the middle of the year."
More than three decades since she popularized "Mr. DJ," Sharon is still very much in demand.
"I have had a very rich, very blessed life my first four decades...Lesson? Gratefulness, gratitude, saying thank you...Even just, you know, when you wake up in the morning you say 'thank you for another day.' And before dying today—I hope I'm not one of them—my kids, I'll have the chance to hold them and you know kiss my kids and tell them I love them. And I'm thankful coz I'm getting a lot of work to do," she says.