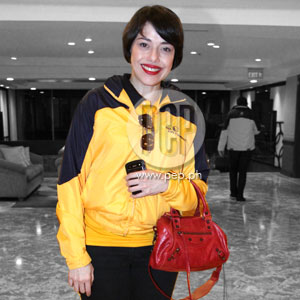 Pia Magalona in one of the press conferences held by Sun Life Financial Philippines, which is set to hold the Sunset Run on December 10, 2011, at the Bonifacio Global City.
Photo: Noel Orsal
The sun has continued to shine on Pia Magalona even after the death of her husband.
Raising eight kids as a single parent would seem daunting, but not to the wife of music icon Francis Magalona who has trained her children to be independent.
It also helped that endorsements have been coming her way, and that a "plan" has secured her present, including future.
Smiling, she told PEP (Philippine Entertainment Portal) in a quick one-on-one interview, "It's time to be with Sun Life family when you start your first job.
"Actually, once you're earning your own money, you should start setting your priorities by then. So that if everything goes wrong, you progress the right way."
Her eldest with Francis, Maxene, is already 25 years old. Is Pia okay with the possibility of her daughter tying the knot soon?
A pause, before saying, "It's time to let your children settle down when they're prepared for it. They should be planning it. It should not be on a whim."
How about falling in love again? It's been more than two years since the death of her husband.
Her random thought: "It's time to fall in love when everything is lovely around you and you do need another human being's presence with you, of course."
But for now, the more important thing to her is fulfilling her roles as a mom and a manager.
She underlines, "It's time to say I'm fulfilled when I'm content. You are fulfilled when you've reached a certain level of comfort and it's more about the needs than the wants."
But one thing she doesn't put a timeline to: Ageing.
"I've not reached that yet," she exclaimed, laughing.