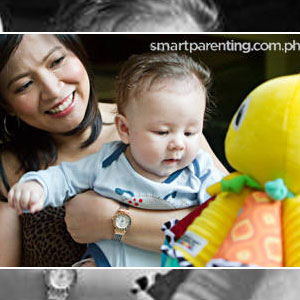 Delamar Arias: "Parenting is so tricky. You could be a single mom and do a spectacular job or you could be married and do the most horrible job ever."
Photo: Courtesy of smartparenting.com.ph
Being married and giving birth to a child are considered milestones in every woman's life.
These two—according to the social norm—should happen chronologically: after marriage comes pregnancy.
The opposite happened to radio disc jock Delamar Arias, who got pregnant with his son Cooper Matteo without the sacrament of marriage.
For the first time, the co-host of Chico Garcia in RX 93.1's The Morning Rush, talked about her "unexpected pregnancy" in an exclusive interview with Stephanie F. Esguerra of smartparenting.com.ph.
Though single mothers abound, Delamar has been idealistic about her views on relationships and marriages.
"I would only want to have a child if it's the product of a good, stable relationship," she related. "I always thought since the world is so harsh, you might as well have that nest of a good family to be born into."
She's resolute about her belief that a kid should grow with a dad and a mom by his/ her side.
The radio personality continued, "I didn't want the burden of rearing that child na ako lang kasi feeling ko a child needs, at least, both a mom and a dad."
But at the age of 27, she was diagnosed with "ovarian cysts, endometrial polyps, and have undergone an operation," which led her to thinking that her chances of conceiving would be smaller.
UNEXPECTED PREGNANCY. But as fate would have it, she got pregnant at the age of 35. And she was not even married to her musician boyfriend Tyler Ashby.
"I didn't expect it, and to be honest, I didn't want it, because of the situation," confessed the 38-year-old disc jock.
"There were just fears because of the situation. But the pregnancy itself? I couldn't be happier kasi I didn't expect it and I didn't even, to be honest, want it.
"I have an idea of family and how kids should be brought in this world, and obviously, I didn't follow it, so the reservation was coming from there."
It didn't take long before she realized that having Cooper, the baby's name, is a blessing.
"There was a dream that was shattered, kasi one thing you said you wouldn't do happened to you.