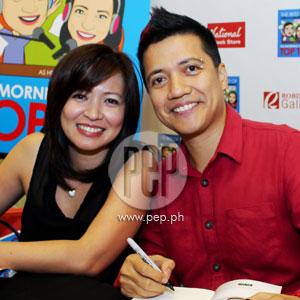 Chico Garcia and Delamar Arias of RX 93.1's daily radio show, "The Morning Rush," put together thirteen years's worth of material from their Top 10 lists. The Best of Chico and Delamar's The Morning Rush Top 10 (produced in collaboration with Summit Books) is a certified bestseller that's also funny.
If you are not familiar with this radio duo, their now bestselling compilation of the most laugh-out-loud, tummy-and-jaw-aching Top Ten lists (e.g. Top 10 Misheard Lyrics, Top 10 Celebrity Jokes, Top 10 Signs You're a Poser, Top 10 Taray Quotes, Top 10 Ways to Complete the Statement: "Ang Tunay na Lalaki...") attests to their infectious hilarity and wit.
Chico Garcia and Delamar Arias, popular hosts of RX 93.1's "The Morning Rush," seal their influence on media and their staying power through their best-selling book, The Best of Chico and Delamar's The Morning Rush Top 10.
The show started airing on RX since 1996 and introduced "The Daily Top 10" portion which appealed to and drew a legion of listeners, also called the Rushers. These listeners's weekday mornings were delightful the past years thanks to Chico and Delamar's insanely entertaining show.
The highlight, of course, of The Morning Rush has always been "The Daily Top 10" of any given topic. They include The Top 10 Signs That He or She Isn't Into You, Funny Gay Quotes, Advice for the Loveless, Reasons Why Cars are Better than Girls, Things to Say to Someone Who's Flirting with Your Partner, Grandparent Moments, Office Bloopers, Misheard Lyrics, and so on.
The book contains a hundred lists from thirteen years's worth of material.
Chico and Delamar had always wanted to compile their material, initially as a memento or souvenir for their Rushers. They had qualms, thinking their Top Ten lists would not be as effective in print as it is on air.
Chico says they were prodded by people to start working on it. "We have been very excited about this project. Actually for years... It was a nice idea but we didn't know how to go about it."
Adds Delamar, also Del to their listeners, "We didn't know when or how. We have been doing the Top Ten for 13 years already!
"[That's] 13 years of material just waiting to be compiled in a book.
"And so when Summit [Media] called Chico and said, 'We have a proposal for you,' we sat with them at Starbucks right beside our building and we were like, 'Oh my gosh, this is it! It's going to come true!'" says Delamar.
"We're very excited," chirps in Chico. "We've always, always wanted to do this book."
He kids, "We were just... we were just lazy!"
THE PROCESS
A difficult task was at hand the moment Chico and Delamar agreed to come up with their 100 Top 10.