Lino Cayetano and Fille Cainglet tied the knot on December 27, just months after they met last summer. Many speculations have been raised as to why they decided to get married so quickly. But one love story points that it could be in the Cayetano men's DNA to quit beating around the bush once they have found "the one."
Photo: Borrowed from Instagram @fillecainglet_15 @linocayetano
After reports of an impending wedding surfaced two weeks ago, Lino Cayetano, movie and film director turned Taguig City Congressman, has married Fille Cainglet, a former Ateneo Blue Eagles volleyball player.
The ceremony happened on December 27, Friday, at an undisclosed location outside Metro Manila, somewhere near the beach.
Lino and Fille's wedding was kept intimate and private, with only a handful of guests in attendance, as seen in this photo posted by the bride on December 28, through her Instagram account @fillecainglet_15: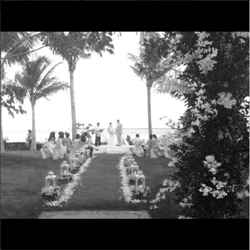 Borrowed from Instagram @fillecainglet_15
Aside from the sketch of her wedding gown, which Fille also posted on Instagram on December 8, no other details about the wedding have been revealed by the couple's camp, except that the designer of the wedding gown is JC Buendia.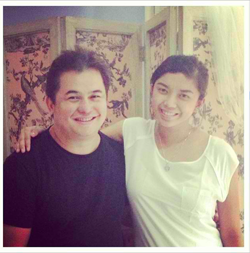 Borrowed from Instagram @fillecainglet_15
In a December 19 article written by Jerry Donato of The Philippine Star, Lino revealed their plans to keep the wedding a family affair, and hold a reception with friends on a later date.
Through the Fille Cainglet Official Facebook fan page—the information on this particular page says that Fille is one of the administrators—a note dated December 28, which was supposedly written by Fille, read:
"Hi guys! Thanks for all the messages! Really wanted to share some of our personal photos but unfortunately someone leaked unofficial ones :( still preparing the photos we want to share with you guys and will post soon. Thanks for the love and support on my special day :D - fille Cainglet Cayetano :) :)"
Fille, who was born on January 30, 1991, was only 23 when she married Lino, 35.
PREGGY SPECULATIONS. Their month-long engagement—which is still quite a taboo for most Filipinos—has raised public speculation that there may be another reason behind Lino and Fille's decision to tie the knot early.
Pregnancy is one of those supposed reasons, and a certain @lyn278 on Instagram sums it up for everyone who was thinking the same thing: "Peggy pu ba sya? Kc ang taba nya ngayon at ang luluwang ng mga dress nya."
As of press time, no official statement has come from the couple's camp whether or not the pregnancy rumors are indeed true.
NO TIME FOR FOOLING AROUND. However, one can search for possible answers in the love story of Lino's older brother, Alan Peter, who is currently a member of the Philippine Senate.