Deniece Milinette Cornejo, as she appears in the promotional video for her online shop Dark Closet, is caught in a complicated scandal. Who is she and why has she suddenly earned so many haters?
Photo: Screengrab from YouTube
One brief mention of her name on national television and already "Denise Millet Cornejo" has earned a spot in the local trending topics of the social networking site Twitter.
Unfortunately though, her newfound fame comes with the ire of some Pinoy Netizens, particularly the supporters of actor-TV host Vhong Navarro.
Who is Denise Millet Cornejo, and why did she earn so many haters?
DENIECE CORNEJO, THE FASHIONISTA. First of all, it's Deniece Milinette Cornejo, not Denise Millet Cornejo, as previously misidentified by certain blogs and media entities.
She was first mentioned by the It's Showtime host, in his interview with Boy Abunda on Buzz Ng Bayan on January 26, as the woman who invited him to her Bonifacio Global City condominium on the night of January 22.
As many may know by now, Vhong was mauled in the condominium by, according to him, six or seven men—including businessman Cedric Lee, a friend of Deniece.
The minute Vhong mentioned her name, Netizens, including PEP.ph (Philippine Entertainment Portal), turned to Google, where it was found out that she is a 22-year-old model who has done work for several companies, including the fashion label Mossimo.
Back in 2012, in a call center-industry magazine called After Call, writer Pio Granada described her as "independent, professional, and responsible."
On her Facebook account (Deniece Millinette Cornejo), she posted her appearances in several print ad campaigns for beauty brands Body Shop and KB Whitening, eyewear company Executive Optical, Standard Insurance, and did bit projects for BDO (formerly Banco De Oro), Smart Communications, Jollibee, and Shakey's Pizza among others.
She has also done work for advertorial videos and television commercials, including a part where she acted as a body double for Gretchen Barretto in the Ivi Ryo Collagen TV commercial.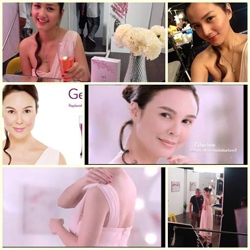 "#throwback The real person behind the "back of Gretchen" shown in the tv commercial" (via Deniece Milinette Cornejo Public page on Facebook)
Deniece is also a familiar face in runway shows and events.
Still on Facebook, her timeline showed recent participation in the Philippine launch of make-up brand MAC's Glamour Daze collection and an Esprit Watches fashion show.
She also mentioned representing the Philippines in an international modeling contest dubbed "One Woman Can," by beauty brand Mary Kay in 2013.
She also won in the hair and make-up modeling competition called FilHair Co-op Hair & Makeup Trends 2012, which was organized and hosted by Ricky Reyes.
Apart from being a model, Deniece said she is also fashion stylist, claiming to have worked for international label Forever 21.