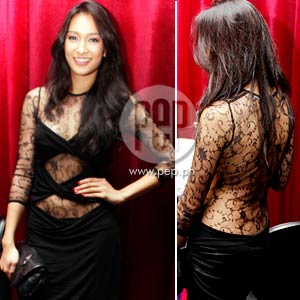 Bea Soriano is a certified fashionista—who confesses to being a fan of online shopping—and the newest brand ambassador of Blackberry, who thinks of herself as "moderately techy."
Photo: Paul Mata
Her black sheer dress elicited "wows" and "whoas," but Bea Soriano looked quite unperturbed when she arrived at Republiq Cafe, where the presscon for Blackberry was held.
"It's very courageous," the model said about her lacy outfit, which she got online.
But the 22-year-old morena beauty was just effortlessly walking the talk for her role as BBM's fashion icon.
"It's really an honor for me," she said about the internationally-famous phone brand she's endorsing. "It's very modern, very efficient, very reliable, and I like that [it's] fast paced..."
Her new gadget is just right for her breezy lifestyle. Aside from modeling, which usually calls her for photo shoots and fashion shows, "I have work for my family," she told PEP (Philippine Entertainment Portal).
Bea has been in the world of fashion for about five years now, and is a member of Professional Models Association of the Philippines (PMAP). She became a familiar face in Tinsel Town after her billboard for a clothing company came out last year. (CLICK HERE to read related article.)
But despite her growing popularity, showbiz doesn't figure in the plans of this 5'9" looker. She is happy to stay right where she is.
"I think I'm very fortunate enough to have been in the industry and learn to love it. Maybe for some models, they see an opportunity, but maybe for me, I see my opportunity somewhere else," she explained.
And how does she manage to keep up with the demands of her job?
"You just have to love what you're doing. I said this before and I'm gonna say it again, 'modeling is not like any eight-hour job'. Wherever you are and whatever you're doing, you should always be on your toes," she said, smiling.
How does she stay fit?
"Stress?" she asked jokingly. "No, I just try to keep my meals balanced, you know, a lot of protein, carbohydrates, and lipids. It's healthy balance..."
With regard to her beauty routine, she does it "when I wish to," she quipped.
But she can't live without "washing my face at night and putting on sunblock by day." She added, "moisturizer for the eyes is also important!"
Lastly, does she go to the gym? She just shook her head, then remarked, "But, I should."