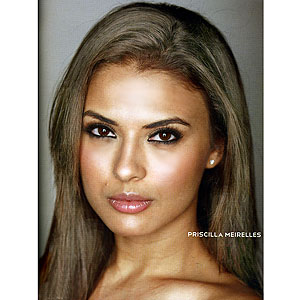 Pinoys really know how to appreciate beauty, that's why there are some beauty queens who were embraced as part of local showbiz. PEP lists down some of these memorable lovely ladies who had their moments in the limelight. Pictured here is 2004 Miss Earth winner Priscilla Meirelles as the latest beauty queen who is slowly getting into showbiz spotlight.
Photo: Courtesy of Star Magic
Aside from selecting representatives to worldwide beauty pageants, BPCI also helps a number of orphanages in Metro Manila and gives skills training and educational workshops to less fortunate kids.
Dayanara Torres. The 1993 Miss Universe first saw the Philippines in 1994 when she came here to crown the new Miss Universe.
Shortly after this stint, Dayanara immediately got proposals for product endorsements. She stayed on even longer when she started to get offers for TV appearances and movie projects.
One of these offers was to be a mainstay in the Sunday variety show ASAP. Here, Filipinos saw how graceful she danced on stage, and so she was given the title "Dancing Queen." Also, according to Wikipedia, she won the Best New Female TV Personality award in the 1995 PMPC Star Awards for TV.
In movies, she was able to work with Gary Valenciano for Hataw Na! in 1995; Cesar Montano for Type Kita, Walang Kokontra in 1999; and Aga Muhlach for Basta't Kasama Kita in 1995.
Although not clearly stated when it started, Dayanara had a relationship with the former Bagets star Aga Muhlach, whom she first met on the set of their movie together. Their relationship lasted for four years.
All these projects and her constant interaction with local celebrities somehow helped Dayanara in learning to speak Tagalog easily.
In 1998, the year she reportedly broke up with her local celebrity boyfriend, Dayanara went back to Puerto Rico and released her first and only music album called Antifaz. She also did supporting roles in a Puerto Rican TV series called La Cenicienta (1999) and in the American soap operas The Young and the Restless (2004) and Watch Over Me (2006).
In 2000 Dayanara married international singer Marc Anthony, with whom she had two sons, Christian Anthony and Ryan Anthony. Their marriage was short-lived and they separated in 2003.
In the last quarter of 2006, Dayanara made a short visit in the Philippines to endorse the controversial Beverly Hills 6750 cosmetic surgery clinic. (Click here to read related article )
Michelle Van Eimeren. The Australian beauty queen Michelle Van Eimeren fell for the popular singer-songwriter Ogie Alcasid. She chose to stay here after the 1994 Miss Universe pageant, which was hosted by the Philippines.
In that same year, Michelle, who acted as a mermaid, starred with Ogie in the movie Manolo and Michelle Hapi Together. Then, in less than a year, they appeared together in another movie titled Isko: Adventures in Animasia.
Michelle and Ogie's romance grew stronger and they decided to get married in 1998. Their union produced two lovely daughters, Leila and Sarah.
The marriage ended, however, after Michelle moved back to Australia in 2003, together with the children. This started the speculations about the couple's separation. (Click here to read related article )
The couple tried to keep mum about the rumored annulment for years until Ogie admitted publicly his romantic relationship with Asia's Songbird and SOP co-host Regine Velasquez. (Click here to read related article )
But all's well that ends well. Michelle, Leila, and Sarah recently had a reunion with Ogie and Regine on the occasion of Ogie's 20th anniversary concert.