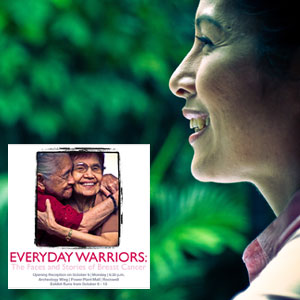 Former actress Lara Melissa de Leon-Joseph (seen in profile) shares her inspiring story of survival in the book for breast cancer awareness,
Everyday Warriors
. The inset shows another image of cancer survivors.
Photo: Jay Lara
Not just a few had unshed tears in their eyes during the photo exhibit and book launch of Everyday Warriors, a collection of images of women who have survived cancer, last October 6 at the Power Plant, Makati.
The women featured in Everyday Warriors come from all walks of life, united in their battle against the number one killer of women in the world today—breast cancer.
Everyday Warriors pays homage to all women and survivors who are going about their daily lives with courage and optimism. Their faces are real and raw, captured in their simple yet dignified beauty. They are our unsung heroes: doctors, recognizable faces, entrepreneurs, stay-at-home moms, and sister-survivors—showing us all that the disease does not discriminate, making awareness and early detection all the more crucial.
One of the celebrities featured in the book is writer, director, and media personality Bibeth Orteza, who opened up about her experience with breast cancer.
"Cancer hasn't slowed me down one bit. I'm a member of Gabriela and Babaylan. I serve my community and I continue to be a director and writer. It would be such a loss if I let go of all of these parts of myself just because of cancer," Bibeth said.
Bibeth also related how the support of friends, including strangers, helped her through the ordeal.
She recounted one of her conversations with the action star who passed away last June due to periampullary cancer. "When Rudy Fernandez was sick, we were talking and we agreed that when you are a celebrity, when people know who you are, they know your face, they come up to you to say that they are praying for you, that you are in their thoughts. It's a beautiful thing and probably the closest equivalent to being touched in the face by God."
Although the main goal of treatment for early breast cancer is to prevent the cancer from coming back, Lara Melissa de Leon-Joseph is not one to sit around and wait for life to happen to her:
"I ask myself each day—how am I going to spend today? Am I going to use it as a tool to look at life differently? I no longer define myself according to a certain profession, or to limit myself to things of this world. If I did that, I know that I would never be satisfied. Today is important for a cancer survivor. Each day is a story of survival."
Bibeth, along with former actress Lara Melissa de Leon-Joseph and 19 other women are the featured subjects of Everyday Warriors, to be published by UST Publishing House.
Everyday Warriors is filled with stories of hope and images of women who battle the disease, which, if diagnosed early, has a high survival rate. Screening is a crucial step in improving the chances of survival. Monthly breast self-examination and a yearly breast examination by a health professional are highly recommended by the medical community.
The book is a collaboration of creative couple Jay Lara, whose camera captured the images of 21 cancer survivors, and Cathy Paras-Lara, whose words described the struggles and victories of the women.
All proceeds from
Everyday Warriors
will go to the Joy in Living Foundation, a cancer-care support group. The project was made by possible by a grant from AstraZeneca, one of the world's leading pharmaceutical companies for cancer research.