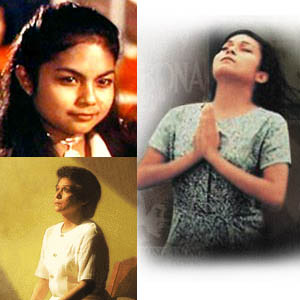 The fans' manic love for Nora Aunor goes beyond the rags-to-riches drama of this poor little girl from Iriga who used to sell water in a train station. It goes beyond her "pakilig" reel and real love story with Tirso Cruz III. Nora is a natural artist. A gifted singer, a born thespian, a creature made for show business. That's why even the critics love her. Alberto Florentino, author of The World Is an Apple, refers to Nora Aunor as "the greatest Filipino actor, of either gender, whether living in the Philippines or abroad—barring no one—either on film, on video, on radio, or on stage." Above: upper left, Nora in Lollipops and Roses (1971); right, in Himala (1982) and lower left, The Flor Contemplacion Story (1995).
This is the last of the three-part series on the urban legends connected to the Superstar Nora Aunor.
We have proven in the first part of this series that the urban legend about Nora Aunor's "fling" with then Hollywood newcomer Don Johnson was not true. This was made clear to us by Nestor de Guzman, editor of the Noranian book Si Nora Aunor Sa Mga Noranian: Mga Paggunita at Pagtatapat (Milflores Publishing, first printed in 2005, Php 360), a compilation of stories from Nora fans. De Guzman revealed that another Hollywood-based star fell for Ate Guy, the '60s Indian teen sensation Sajid Khan, Nora's partner in the movie The Singing Filipina (1971).
The second urban legend, proven to be fact this time, was the story of Nora's "Operation: Kumbento" and the Lucky 12. Again with the help of de Guzman, an account from La Aunor's 1970s biographer Rustum Quinton, and from Tirso Cruz III's publicist from 1970-80 Nora Calderon, we found out that Operation: Kumbento was the codename for Nora's "extraction" operation from Tower Productions with the help of the Lucky 12-a group made up of die-hard Noranians assembled by Nora's close friend, the late showbiz writer-radio and TV host Inday Badiday.
Now, the third urban legend comes from stories about Nora Aunor's manic popularity—or the "Superstar Phenomenon."
Were the stories of mass hysteria, of fans willing to get trampled on, risking life and limb just to see Nora, and their god-like adoration of the little brown girl from Iriga really true?
What about the stories of buses, firetrucks, cranes, and even a helicopter just to get La Aunor through a sea of screaming fans? Of using look-alikes to divert chasing fans from the Superstar?
Are all these just the usual publicity gimmicks, tall stories from publicists and reporter fans of the Superstar? Which is fact, which is fiction?
IN THE BEGINNING. The hysteria began after Nora capped her 14-week undefeated streak with a grand championship win in Tawag ng Tanghalan in 1967. Fans followed and loved her when she started singing in the TV show Oras ng Ligaya and in the radio program Operatang Putul-putol.
Although her first recording flopped, her next LPs were certified hits and runaway bestsellers. Movies came next with her supporting appearances in musical portions of Sampaguita Pictures movies.
But it was the movie D'Musical Teenage Idols of Tower Productions that further fanned the flame of Nora's popularity. This movie—her first starring role—was a surprise box-office hit.
Nora broke through the "mestizas-only" rule of local cinema and proved to everyone that you don't have to be Caucasian-looking to carry a film and make it a box-office hit. Her next movies' record-breaking ticket sales only cemented more solidly her place in Philippine showbiz. The media quickly took notice of the phenomenon Nora was creating and gave her a title—The Superstar.
THE FRENZY. It was the late '60s and Filipinos were entering one of the most tumultuous eras in Philippine history. Enter the 4'11", brown-skinned girl from Iriga. Gifted with a golden voice and a pair of soulful eyes, she also had a Cinderella story that could inspire, fan the imagination, and take away all the worries of the problem-burdened Pinoys. Nora Aunor provided an escape, someone everyone could focus on and channel their faith unto during those troubled times.
De Guzman said there were only two reasons when one saw a very large group of people rallying on the streets in the early '70s. Either there was a student demonstration going on, or Nora's hordes of fans were off to see the premiere of her latest movie.
"Talagang grabe ang fans ni Nora nung araw," begins Nora "Tita Noy" Calderon veteran showbiz reporter and Tirso Cruz III's PR from 1970-80. "Yung isang nakakabaliw na naaalala ko about the fans of Nora and Pip [Tirso], nung nag-show sila ABS-CBN. Sa sobrang dami ng fans na gusto silang mahawakan, dun na lang sa ibabaw ng [old] ABS-CBN building sa Bohol sila nag-show.
"'Tapos minsan namang premiere ng isang movie nila, hindi sila makadaan sa entrance ng sinehan. So ang ginawa sa kanila, inilagay sina Guy and Pip sa forklift at itinawid sa mga tao. Sa likuran pa sila ng sinehan dumaan kasi ang dami talagang tao sa entrance," remembers Tita Noy.