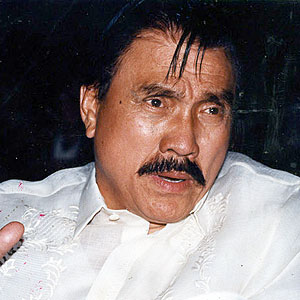 Rumor has it that former senator and action star Ramon Revilla Sr. has 80 or more children and he has yet to clear up the speculations. "Having children is a big responsibility," he once was quoted as saying. So, how many exactly is he responsible for?
One of his claims to fame is his anting-anting or amulet, which makes his film characters defy death.
In real life, it seems former senator Ramon Revilla Sr. has the same powers to defy death's claws. He survived a stroke just recently. Add to that his being the object of one of showbiz's undying 'macho' rumors—that he had fathered more than 100 children.
Judging from the many articles written about the erstwhile action star- lawmaker, the media have not really gotten a clear story from Mr. Revilla ever. Once, when a newspaper reporter posed the question to him, his response was simply: "I don't have many children... and it's far less than a hundred."
One of his daughters, Rowena Bautista-Mendiola, bemoaned her father's usually cryptic response, admitting that it adds to the speculations.
Another daughter, Andrea Bautista-Ynares, recounted an incident: "Iniinterview yata siya, tapos he did not answer so sila lang ang nag-conclude." His vague response is partly to blame for the persistent rumor about his alleged numerous kids, she admitted.
"Alam mo naman 'yun," Rowena exclaimed, hinting that Mr. Revilla may just be enjoying a bit of the "notoriety."
A man's man. Ramon Revilla Sr., it could be said, has always been noted for his macho image. In his films, he looked tough, like he could kill you with a glance, and he was pretty convincing as a man who had an agimat or supernatural power.
Real life was no different. Tall and muscled, his physical features made it easy for others to think that he was no man to mess around with.
Born Jose Acuña Bautista on March 8, 1927 in Imus, Cavite, he assumed the name Ramon Revilla when he entered the movies.
One of the 10 children of businessmen Ildefonso Bautista and Andrea Acuna, he already had a degree in Commerce from the Far Eastern University before he got discovered (while he was pumping gas) to appear on the big screen.
But in his initial showbiz entry, the young Ramon Revilla was cast in bit roles, which was just not enough for him so he left the movies to be head of the Secret Service Unit of the Bureau of Customs in 1965.
Showbiz saw his return in 1972.
Like the tough guy he was, he returned to showbiz on his own terms, creating his own film production, Imus Films, for him to star in. Together with wife Azucena, they ran the film outfit with Revilla writing and directing his films.
In 1973, Revilla won a Famas Best Actor Award for Hulihin si Tiyagong Akyat. Imus Films was also recognized as Outstanding Film production in 1975. The next year, Revilla snagged the Outstanding Producer of the Year Award. In 1979, he was Most Outstanding Actor and Box Office King. At that point, there was really no stopping his popularity.
Later in his career, his characters in the films Pepeng Agimat and Nardong Putik gave him the image of being invincible—a superhuman who had in his keeping a special anting-anting.