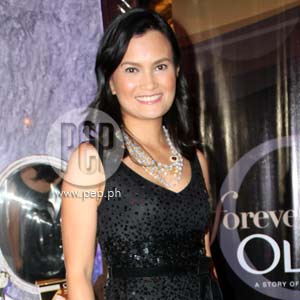 Daphne, who has been tagged as the Lifestyle Show Diva, surely knows what good living is all about. She lives contentedly with a successful career and a solid family life.
Photo: Allan Sancon
In show business, her name is associated with the Good Life.
Daphne Osena-Paez is the face behind ABS-CBN's Urbanzone. She is also one of the trio who started the defunct women-oriented show F!, alongside Angel Aquino and Cher Calvin. She was also the main host of QTV-11's Proudly Filipina.
Daphne shared how she managed to maintain a quiet life even with a career that's bound to be under public scrutiny.
In an exclusive interview at the "Forever Olay" luncheon recently at the Manila Peninsula Hotel in Makati City, as one of the brand's ambassadors, Daphne told PEP (Philippine Entertainment Portal) that her career on TV is not out of desire for celebrity status.
"My being on the television all these years, obviously is not to be a celebrity, not to be sikat, not to have a manager and be a showbiz person. It was just a bonus," she said.
TV BREAKTHROUGH. She related that her TV career is accidental but her love for storytelling enabled her to jumpstart her life in the business.
She was working as a professional urban planner in Canada after acquiring a degree in Arts History and Urban Planning from the University of Toronto.
When an opportunity came to produce a show for news and current affairs in ABS-CBN, Daphne was initially part of the creative team.
Daphne said that her flair for design and creativity helped propel her career in TV as a lifestyle show host.
"I did this thing called video postcards. I did it for free. I filmed it in my own camera. I edited it at night. I waited at the parking lot for Gabby Lopez [ABS-CBN Chairman] to show him my product; and then they believed me and because of that I got F!. It was nothing. But it was my one product that really brought out my creativity and my love for the television," she recalled.
Daphne didn't take that break for granted. As one of the hosts of the show, Daphne had to go the mile learning the nitty- gritty of the show.
"So when I was discovered by accident in ABS-CBN, I used that opportunity to learn the language of television. I learned how to write for TV. I learned how to produce. I learned how to film. I learned how to edit," Daphne recounted.
Her being hands-on actually helped her hone her craft and provided a strong foundation for her longetivity in the business, "So, I actually edited my own segments in F, you know?
"And I think why am I doing this? I could just sit back and be a host, get a manager and get a life, you know?
Then Patrick [Paez], who was my boyfriend then said, 'No, you're in here for the long term and not for short term. You don't want to be the flavor of the month that won't last long. Work on your name. Invest on it for long term.'