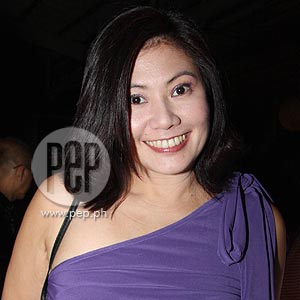 "I'm very okay, very happy and contented," related Jackie Aquino, who used to be very visible in showbiz and now reveals a desire to do more projects. Jackie, who's a cousin of Kris Aquino, may be remembered as the former flame of comedic genius, Roderick Paulate.
Photo: Noel Orsal
Although not as high-profile as her cousin Kris Aquino, in fact, Jackie Aquino is still very much in showbiz circles.
"I'm very okay, very happy and contented," Jackie announced when PEP (Philippine Entertainment Portal) caught up with her at Bong Revilla's birthday bash last September. "I'm a board member of the MTRCB (Movie and Television Review and Classification Board). And I have a talk show every Saturday, 8 pm, it's She Said, She Said with Ms Cutie del Mar, she's the daughter of Congressman Raul del Mar of Cebu. It's in Channel 3 in Destiny Cable."
She also informed PEP that she is part of the cast of the indie movie, Teach Me to Love. "It's under the direction of Eddie Romero, our national artist and it's with Maui Taylor, Tonton Gutierrez and Nathan Lopez."
Jackie Aquino came to fame in the '80s, starring in the film opposite action star Bong Revilla, Moises Platon. She also starred in the 1989 international film, Circle of Fear, which was shot here but distributed in the U.S. and Europe.
Her other movie credits include: Dahil Mahal Kita, The Dolzura Cortez story with Vilma Santos (1993), Trudis Liit (1994), Pusoy Dos (1994), Kuratong Baleleng (1995), Mulanay (1996), Kristo (1996), Epimaco Velasco, NBI (1997), You and Me Against the World with Kris and Robin (2003), Oh My Ghost (2006), and Faces of Love directed by Eddie Romero with Christopher de Leon.
Many may remember her as once being the girlfriend of comedy star, Roderick Paulate.
These days, though, she is wife to a non-showbiz guy and mother to two adorable daughters. And leading quite a full life, by the looks of it.
"I teach in the Gymboree Play and Music School," Jackie added to her work list. "I'm [also] the PR and Program Director. It's a school for children [aged] zero to five years old, it's a franchise from the US. We have two corporate sites here—one in Shangri-la Mall and in Manila Polo Club in Forbes Park, and we have franchises in West Gate Alabang, in Cebu, Serendra and Trinoma."
She said it's not a problem that her work involves toddlers and babies. "I really love children, I really am patient with them, so even if they cry or vomit, I'm fine with that."
"Then I'm also an Executive Director of Classic Herbs Corporation. We distribute Food Supplements and Beauty Products."
"And, I'm also a mother and a wife," she topped off her many roles.
It must be hard juggling her schedule. Does she ever get to sleep?
"Actually I sleep late—late would be 2 am—and I wake up late. Unless I have taping. I'm used to that kind of life. My normal sleeping hours is 10 hours," she said.
"My classes are at 12, sometimes they're at 4 pm, so it depends, and I can always fix my schedule in school and then with MTRCB, we're required to go 8 times a month plus, like, we have hearings in the senate and congress, so I attend that also," Jackie narrated. "With classic herbs it's distribution so I do it when I can, like if we have to do go out of town, usually on weekends, and then I also try to pick up my children and bring them to school but it's very difficult."