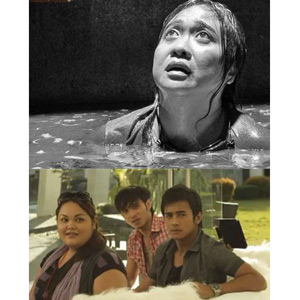 Ang Babae sa Septic Tank, which stars Eugene Domingo (above), Cai Cortez, Kean Cipriano, and JM de Guzman (below), debuted at the Cinemalaya 2011 and had a very successful theatrical run last month.
Ang Babae sa Septic Tank will represent the Philippines in the Best Foreign Language Film category of the 84th Academy Awards.
PEP.ph (Philippine Entertainment Portal) was able to confirm this yesterday, September 14, through a source from the Film Academy of the Philippines (FAP).
The source from the FAP revealed that majority of the members chose Ang Babae sa Septic Tank over other short-listed films. This will allow the Filipino film to vie for a nomination in the Best Foreign Language Film category of the 2012 Oscars.
The Eugene Domingo-starrer was able to beat the period drama Rosario, prison drama Presa, coming-of-age story Senior Year, family drama Ikaw Ang Pag-ibig, and the horror film Dalaw. The family drama Thelma and the horror comedy Zombadings 1: Patayin sa Shokot si Remington were also reviewed but did not make the cut.

In an online interview, Eugene told PEP, "Marlon Rivera called me up and told me about the Oscar news and I laughed so hard because I thought it's crazy!
"We were also ecstatic until we all realized it is a big honor that definitely needs a bigger campaign! We will pray for it.
"I hope that the 'woman in the septic tank' gets to wear a gown and walk on the red carpet at the Kodak Theatre! Who knows?"
This satirical film is directed by first-time filmmaker Marlon Rivera and written by Chris Martinez.
Ang Babae sa Septic Tank won five major awards during the Cinemalaya Philippine Independent Film Festival held in July 2011.
Eugene was named Best Actress, Marlon Rivera won as Best Director, Chris Martinez earned Best Screenplay; it bagged the Audience choice award, and was chosen as the Best Film in the New Breed category.
The movie chronicles a day in the life of misguided indie filmmakers as they plan to produce a movie they believe will earn an Oscar.
The characters of JM de Guzman, Kean Cipriano, and Cai Cortez brainstorm about different treatments of a story that they will present to a diva actress (Eugene Domingo).
The film also features performances by Cherry Pie Picache and Mercedes Cabral.
(CLICK HERE to read PEP's review of Ang Babae sa Septic Tank.)