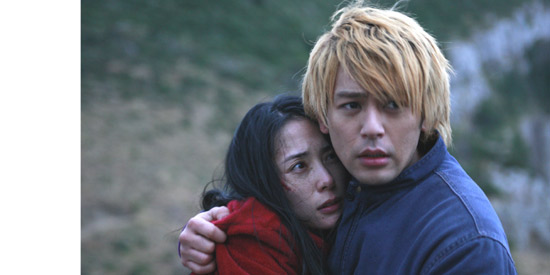 Eiga Sai, the annual Japanese film festival organized by the Japan Foundation and the Embassy of Japan, returns to Manila as it opens the Philippines-Japan Friendship Month at the Shangri-La Plaza from July 6 to 15, 2012.
This year, Eiga Sai presents an exciting 10-film lineup that boasts of a healthy mix of genres for film enthusiasts, starting with Villain, which will be shown in an invitational screening on July 5.
This gritty social critique drama by director Lee Sang-il has enjoyed successful runs at various international festivals and earned 15 nominations from the Japan Academy Awards, including those for Best Picture and Best Director. Eri Fukatsu, who plays Mitsuyo, a woman on the run with a murderer, also won the Best Actress Award at the Montreal World Film Festival 2010 and Japan Academy Prize 2011. The film was based on the 2007 novel Akunin by Shuichi Yoshida.
It will be followed by movies that will be free to the public on July 6, starting with Railways, a heart-warming family drama that tells the story of a businessman who returns to his hometown and revisits his childhood dream of becoming a train conductor.
Family is also the heart of Abacus and Sword, a film adaptation of Isoda Michifumi's book, which chronicles life in the final days of the Tokugawa shogunate from the household accounts of a low-ranking samurai.
The romantic drama Permanent Nobara, based on the popular manga series of the same title by Saibara Rieko, presents a cast of lovable, quirky characters. In this love story for grown-ups, a woman's pursuit for love never dies and the lead actress portrays feminine strength and compassion with humor.
The first day of the festival will be capped by PEAK: The Rescuers, an adventure film based on the popular comics by Ishizuka Shinichi, following the story of Sanpo, who volunteers as a mountain rescuer in the Alps after conquering the world's famous peaks. Despite these achievements, he strikes novice Kumi as far too easy-going, but proves himself reliable.
The festival also has something for children as it offers Ninja Kids, the live action adaptation of Amako Soubei's ninja action manga, following the slapstick antics of a group of ninjas-in-training.
Another live action treat is Tomorrow's Joe, from Takamori Asao and Chiba Tetsuya's eponymous comic. The story revolves around two boxing rivals—a recruit from the slums and a professional fighter—who engage in a fierce battle that will determine their fates.
Sci-fi and fantasy film Colorful may be the only animated film in this year's lineup, but it shows depth in revealing what happens to a deceased soul that was transferred into the body of high school boy Kobayashi Makoto, who just committed suicide. With Kobayashi's body regaining life, the soul inhabits him and journeys deeper into the boy's story.
Japanese comedy Happy Flight is set on a flight bound for Honolulu from Japan. Co-pilot Suzuki Kazuhiro is counting on the flight as his final test for a promotion to captain while new cabin attendant Saito Etsuko sees it as her debut on an international route. However, things change as the plane is forced to face technical failures and an approaching typhoon.
Finally, medical drama In His Chart is based on the debut novel of Natsukawa Sosuke. An eye-opening glimpse into Japan's healthcare issues in its provinces, the film follows the growth of young doctor Ichito, who encounters terminal cancer patient Azumi as he questions the very existence of medicine.
Eiga Sai will also go south to Davao City at the Gaisano South City Mall from July 20 to 22, 2012 and to Cebu at the Ayala Center from August 7 to 12. The U.P. Film Institute in Diliman, Quezon City will also host the festival from August 15 to 21.


All films are subtitled and admission is free.