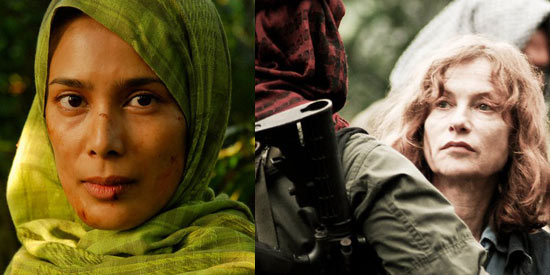 Captive stars French actress Isabelle Ruppert (right) as well as Filipina actress Angel Aquino (left). They are joined by a roster of Pinoy talents: Sid Lucero, Ronnie Lazaro, Raymond Bagatsing, Maria Isabel Lopez, Mercedes Cabral, Mon Confiado, and Che Ramos. Screened in competition at the 2012 Berlin Film Festival, Brillante Mendoza's film takes the audience from the abduction at the Dos Palmas Resort, Palawan to the cross fires between the AFP and the Abu Sayaff in the jungle of Lamitan, Basilan.
"Kasi si Olive, my character, has kids. Yun na lang yung ginamit ko na inspiration… na paano na kung nangyari to sa akin na hindi ko na makikita yung mga anak. Maloloka talaga siguro ako!"
Her character Olive is also being forced to convert to Islam after marrying the Abu Sayyaf bandit.
Despite the hardships of shooting the film, Angel takes delight in the success of the film, more so, getting to work with Isabelle Huppert whom she thinks highly of.
"She [referring to Isabelle] was very pleasant and gracious to work with! Grabe! Saka magaling talaga siya.
"She's very sensitive… I believe she deserves an award here. It was shown in this movie. She is very, very good. You really feel her [in] every moment."
Will she collaborate with Brillante for the third time sometime in the future? While she humbly shrugs off being one of the award-winning filmmaker's favorite actresses, Angel expresses her support for the Cannes award-winning director.
"Sana nga! Sana more movies pa with Direk Brillante!"


Captive is slated to have a red-carpet screening on September 3, 2012. The film is scheduled to open in Philippine cinemas by September 5, 2012.