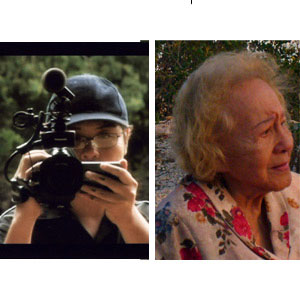 The mockumentary
Confessional
(left frame) and the Anita Linda tribute film
Adela
(right frame) will represent the Philippines in the Southeast Asian competition of Dekada Cinemanila. The annual film fest will run from October 16-29 at Gateway Mall in Cubao.
Photo: File photos

Two Filipino films will compete in the Southeast Asian Competition of the 10th Cinemanila International Film Festival. The Anita Linda tribute film Adela and the mockumentary Confessional are two of the seven choice films that are in the running for the SEA section of Dekada Cinemanila.

Adela is directed by Adolf Alix Jr. while Confessional is helmed by Jerrold Tarog and Ruel Dahis Antipuesto. Direk Adolf's film was recently screened in the 2008 Toronto and Pusan International Film Festivals.
The film, produced by Noel Ferrer and Adolfo Alix, Jr., tells the plight of Adela, a former radio personality, who is celebrating her 80th birthday in the slums of Manila. Alone and without support, she longs for the family and stability of years gone by. Mundane events take on a heightened meaning as Adela gauges her life against those of the sea of humanity.

The film also stars Jason Abalos, Joem Bascon, Ricky Davao, Perla Bautista and in very special roles, Iza Calzado and Mr. German Moreno. New York-based Visit Films has the worldwide acquisition rights of Adela. This movie will open in selected theaters by November.


Meanwhile, Confessional is the tale of a fledgling filmmaker named Ryan Pastor (portrayed by Jerrold). He goes to Cebu to document the Sinulog Festival but he meets a former politician who decides to confess all his sins, the crimes, corruptions and even murders he committed while in office, before Ryan's camera. This digital film, produced by Creative Programs Inc. (CPI), is hailed as the runaway winner of the 2007 Cinema One Originals digital film fest.

Confessional was also exhibited in Pusan IFF and was named Best Film in the First Features section of the 10th Osian's Cinefan Festival of Asian and Arab Cinema in India.


Here are the films that will compete in the Southeast Asian competition of Cinemanila:


1. 12 Lotus (Royston Tan, Singapore)
2. Adela (Adolfo Alix Jr., Philippines)
3. The Blind Pig Who Wants to Fly (Edwin, Indonesia)
4. Confessional (Jerrold Tarog and Ruel Dahis Antipuesto, Philippines)
5. Flower in the Pocket (Liew Seng Tat, Malaysia)
6. Love of Siam (Chukiat Sakveerakul, Thailand)
7.
The Photograph
(Nan Achnas, Indonesia)
Dekada Cinemanila will run from October 16-29 at Gateway Mall in Cubao.