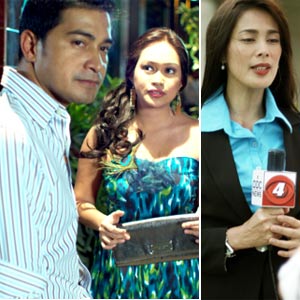 (From left) Cesar Montano, Mercedes Cabral and Angel Aquino topbill the drama-thriller
Biktima.
Photo: Courtesy of RD Alba
Thousands of civilians become victims of terrorism annually. This is a sad fact that prompted Filipino-American director R.D. Alba to helm the film Biktima, a drama-thriller that stars Cesar Montano and Angel Aquino.
Shot entirely in Bohol last February, the film revolves around a woman who was ambushed while fulfilling her job as a TV reporter. PEP (Philippine Entertainment Portal) interviewed director R.D. via email regarding
Biktima
, which is his first Tagalog feature film. Born in Cebu, he migrated with his family to the United States when he was 11 years old. He is now based in West Hollywood, California where he has just finished post-production on this movie. What is the film's message about terrorism? "Terrorism is today's cancer. You never know when it will happen nor if you could survive an attack. You just have to be aware of the everyday life interactions whether it be politics, news, religion and/or family."
Is this inspired by the Ampatuan massacre in November 2009? "The massacre is just a reference in the movie, it is not even mentioned in the movie. The storyline is quite different. The script was written in July 2009, before the Amaptuan massacre happened." It will be recalled that on the 23
rd
of November 2009, 57 civilians were killed in the town of Ampatuan in Maguindanao province--32 of them were journalists. R.D. served as the associate producer of the 2004 film
Panaghoy sa Suba,
which was directed by Cesar and also featured him as the lead star. How was it like working again with Cesar Montano? "Cesar is a pro, he gets the scene right away. Directing him is such an ease. He is also a very funny guy so we laugh all the time on the movie set."
What changes have you seen in Cesar since you worked with him in Panaghoy sa Suba?
"Cesar remains to be himself, very down to earth and creative. There really has been no change."

SYNOPSIS. In Biktima, Angel Aquino plays Alice de la Cruz, a local KVTV news reporter who travels on assignment to the island of Kamandao who becomes a victim of an ambush. She was with another reporter named Fred (portrayed by Lloyd Samartino) and a little girl named Emma (portrayed by Isabel Garsuta) when the tragedy occurred.
Cesar Montano plays Mark de la Cruz, the husband of Alice who has to deal with the devastating effects of his wife's ordeal. As a result of this ambush, Alice will go through a psychological disorder known as post traumatic stress disorder, causing her to be confined in a mental institute.
Mercedes Cabral plays Sandra Guzman, a lounge singer who has just moved into town. She eventually becomes involved with Mark.
Cesar's wife, Sunshine Cruz, is cast in the film as Jane, the TV executive who assigns Angel to report on the incidents in Kamandao. Hollywood actor Philip Anthony is also part of the film as a hostage named Houston. He has been held captive for four years. Philip previously worked here in the Philippines when he was cast in Cesar's previous film
Panaghoy sa Suba
.