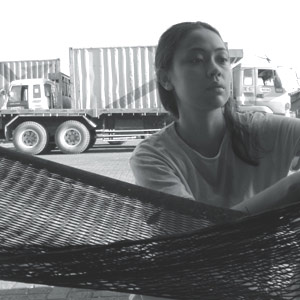 In
Chassis
, Jodi Sta. Maria portrays a mother who turns to prostitution in order to make ends meet. She and her family live under the chassis of delivery trucks parked at the Manila South Harbor.
Photo: Courtesy of Adolf Alix Jr.
Director Adolfo Alix Jr. is one of the most prolific filmmakers in Philippine independent cinema, releasing three to four films each year.
His breakout hit Donsol premiered at Cinemalaya and was submitted to the Academy Awards as the official entry of the Philippines for the Best Foreign Language Film category in 2006.
He directed the slice-of-life dramas Adela and Aurora, the controversial gay films Daybreak and Muli, and a Cannes exhibition film Manila, a twinbill project that pays homage to Lino Brocka's Jaguar and Ishmael Bernal's Manila By Night.
Following three lackluster releases this year (Romeo at Juliet, D' Survivors, and Muli), Direk Adolf's latest project may just be the movie that lands him back on the good side of film critics.
Successful screenings have been held in Pusan and Vancouver, and Chassis is currently competing in the 25th Mar del Plata International Film Festival in Argentina.
DESPERATE MOTHER. Home for Filipinos is wherever their loved ones stay, of course, given our high family values. The physical structure may be of secondary importance, though the affluent do boast a lifestyle in condos and mansions.
In stark contrast, the poor make do with makeshift homes assembled with scrap wood and cardboard boxes. There's a worse scenario, however, which director Adolf Alix Jr.'s Chassis is all about.
For Nora (Jodi Sta. Maria), her daughter Sarah (Kimberly Fulgar), and her husband Lando (Lemuel Pelayo)—home is under the chassis of delivery trucks parked at the Manila South Harbor.
Permanence is an alien concept here. From time to time, the family moves to another delivery-truck chassis for shelter.
Despite her husband's meager income as truck driver, Nora dutifully sends her daughter to school. When Sarah asks for money to pay for a field trip and a set of angel wings as her costume for a school play, the devoted mother has to find a way to earn money.
Nora turns to prostitution without her family's knowledge. Her clients barely have enough cash to pay for her services, much less can they afford to take her to a motel. So, they just do business inside empty trucks and in between shipping containers.
Under this set-up, Nora runs the risk of getting caught by Lando or by Sarah—her only source of joy—but she doesn't have a choice.
STARK REALISM. Chassis is shot entirely in black and white, which makes the setting even more drab. Nora and the other residents of Pier 16 are just trying to get by, merely surviving each bleak day.
During her intercourse with men, the camera zooms in on Nora's face with its blank expression. No moans of pleasure or tears of regret. We see only a desensitized mother who has learned to compromise her whole life in exchange for a few pesos to buy instant noodles for supper.
A simple yet pivotal moment punctuates Nora's commitment to provide for her daughter. She takes her daughter to eat out and stroll along Baywalk on Roxas Blvd.. She confesses that she cannot afford to pay for Sarah's field trip.