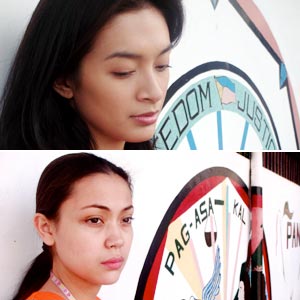 Ina Feleo (top frame) and Jodi Sta. Maria are among the stars who will portray inmates of the Correctional Institute for Women for the indie film,
Presa.
Photo: Courtesy of Adolfo Alix Jr.

PRESS STATEMENT:
"Inspired by true stories, Astral Productions' Presa tells the intertwining lives of inmates in the medium security facility of the Correctional Institute for Women (CIW) a few days before Christmas, when these women go through a gamut of emotions--anxiety in anticipation of yuletide visits from loved ones, or redemption through Presidential clemency or after serving prison terms. (CLICK HERE to read more about this indie film)
"The film directed by Adolfo Alix, Jr., also boasts of the finest actresses working in Philippine cinema today: Tetchie Agbayani (Yanggaw), Angeli Bayani (Melancholia), Ina Feleo (Endo, Sanglaan), Liza Lorena (Miguelito, Oro Plata Mata), Perla Bautista (Markang Rehas, Anak ng Cabron), Daria Ramirez (Sino'ng Kapiling, Sino'ng Kasiping?), Rosanna Roces (La Vida Rosa), Jodi Sta. Maria (Sisa, 2008), and Ms. Anita Linda (Sisa, 1951; Adela and Lola); with the special participation of Alessandra de Rossi (Munting Tinig, Hubog).
"Each character is unique and has an interesting story to tell. The real present set-up in the CIW is captured in images that speak for themselves and interpreted with honesty by the actresses after a whole-day immersion in the facility which showed them how the real inmates live and survive amidst melancholia in a supposedly happiest time of the year.
"I really wanted to do something about the lives of these prisoners. My co-writer, Agnes de Guzman, and I decided to go to the correctional," Alix said.

"We thought that inside the correctional was a very violent world. But inside this institution is an alternative community for women prisoners. At the same time we were telling the stories, inside the jail, there's a hierarchy for people living there," he said.
"Presa won the Best Independent film award in the recently concluded Metro Manila Film Festival. It will have it's international premiere in the 40th Rotterdam International Film Festival.
"It opens in selected theaters this January 19th."


Ed's Note: When content falls under "Press Statement," this means that the material is fully and directly from the company itself. The use of open-and-close quotation marks to envelope the entire text shows as much. This also means that PEP is not the author of the statement being read. PEP is simply providing the information for readers who may be interested.