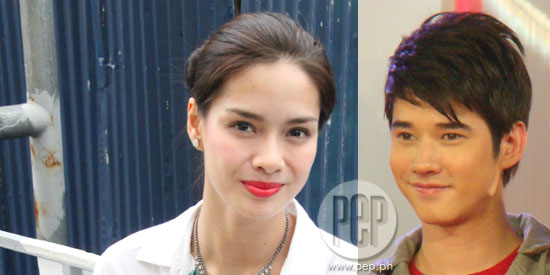 Thai heartthrob Mario Maurer (right) is expected to shoot scenes of his upcoming movie in Ilocos and Bangkok, Thailand. Erich Gonzales (left) is cast as his leading lady in Suddenly It's Magic.
Thai heartthrob Mario Maurer is happy to be given the chance to work with Filipina actress Erich Gonzales.
Mario and Erich will topbill the movie
Suddenly It's Magic,
which is directed by Rory Quintos and produced by Star Cinema. "Erich is very funny. When we talk, she has so many characters," Mario was quoted as telling ABS-CBN News during the movie's story conference held in Bangkok, Thailand. He jokingly said about Erich: "For me she's not like a woman, she's kind of a man." The Thai actor, who became popular for the movie
A Little Thing Called Love
, described his leading lady by saying, "She can rap, she can do beatbox, and she tries to make me sing for her, and I just wouldn't!"
"She's very playful, that's why it's happy to be with her."


When he was asked if there is a possibility of him falling for Erich, Mario was reportedly at a loss for words.
At this point, Erich answered in behalf of her leading man.
"Everybody knows that he has a longtime girlfriend, and I really admire their relationship, and we're here to work and to have fun, and definitely we'll be close friends even after this."
Suddenly It's Magic
depicts the story of a romantically jaded Filipina baker who crosses paths with a Thai superstar who visits the Philippines for a change of pace from his busy lifestyle. Erich says about her character: "I own a bakeshop. I'm actually a pastry chef. I just got out of a bad relationship that's why I became a little jaded or bitter when it comes to love. Then I meet this Thai guy who will change my life, and so that's where the magic begins."
The lead actor of the movie says about his role: "My character's name is Marcus, and he's a Thai superstar. He works in the movie business, [but] he gets bored of the career that he made, and one day he just decided he wants to go somewhere, like thePhilippines, and that's when the magic starts."

Mario is scheduled to come to the Philippines this May to shoot scenes for Suddenly It's Magic. ABS-CBN News reports that aside from Bangkok,Thailand, there will be scenes shot in Ilocos.

(CLICK HERE to read more about this upcoming movie)