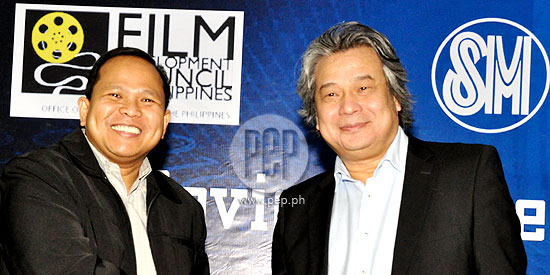 Film Development Council of the Philippines chairman Briccio Santos (right) says that the FDCP's partnership with SM Cinema came at "an opportune time with the digital revolution changing the way we make films, watch, and preserve films." Also present at the contract signing was SM Cinemas senior vice president Edgar Tejerero (left). SM Cinema is now converting all of its 240 cinemas nationwide into digital screening, bidding the 35mm projector goodbye.
Photo: Nimfa Chua
A signing of a memorandum of agreement between the Film Development Council of the Philippines (FDCP) and SM Cinema last August 29 at the 3rd floor of the Mall of Asia Arena marked a milestone in Philippine cinema.
SM Cinema, which operates 240 movie houses in its 44 branches nationwide, has made a move to convert its theatres to digital under the Virtual Print Fee (VPF) program.
There are currently 600 cinemas in operation in the country.
In the Philippines, DCinema handles the deployment of the VPF— a financing mechanism that assists in the purchase of digital cinema equipment, allowing distributors to spend less in shipping digital rather than 35mm film, and recouping a portion of equipment costs.
"By September 14, 2012, SM Cinema will already have one hundred percent of all its screen in digital… It will signal for us the end of the 35mm," announced Edgar Tejerero, senior vice president for West Avenue Theatres Corporation, operator of SM Cinemas.
Tejerero also relayed that SM Cinema's signing of the agreement also means it is supporting the Cinematheque Project of the FDCP.
The Cinematheque project is part of the FDCP's Sineng Pambansa program, which brings independent and mainstream films closer to Filipinos in Davao, Marawi, Iloilo, and Baguio.
With SM Cinema committing to help in carrying out the project, Tejerero said that any contemporary, classic, or independent film that go through the FDCP will have the opportunity to be screened in a cinema house in any SM Cinema branch.
Added Tejerero, "With the age of digital, we can guarantee that what is shown in Metro Manila can be shown in any part of the country."
Meanwhile, FDCP chairman Briccio Santos said, "This partnership came in an opportune time with the digital revolution changing the way we make, watch, and preserve films. Digital filmmaking has paved a way for independent filmmakers to democratize the medium and because of this, Philippine cinema is prolific again."
Santos also pointed out that the costly and laborious task of film exhibition will no longer be shouldered by producers and distributors. Instead, the new system will permit them to distribute films more efficiently.
"The system of film distribution will be revolutionized and the possibilities are endless," said the head of the FDCP.
The full digitalization of cinemas promises likewise to prevent the rampant piracy in the country.
This is made possible by tighter copy protection, as the distribution of unauthorized copies prior to local and world premieres will be avoided, because the interception of prints will not happen anymore.