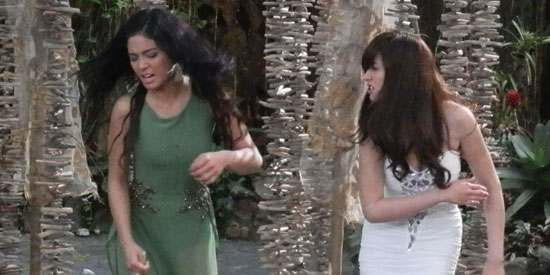 Lovi Poe (left) and Jennylyn Mercado (right) really got hurt during their confrontation scenes in The Bride and the Lover. Lovi and Jennylyn are fighting for the affection of Paulo Avelino's character.

Photo: Courtesy of Regal

ADVERTORIAL



Regal Entertainment Inc. raises the temperature even higher this summer as it presents the Joel Lamangan movie The Bride and The Lover. It will be headlined by sizzling female leads Lovi Poe and Jennylyn Mercado.
Lovi and Jennylyn not only competed against each other in terms of doing daring scenes but also tried to outshine each other in the acting department.
This is why the mother and daughter team of Lily and Roselle Monteverde felt they made the right choices after seeing the erotic drama's provocative rushes.
Moviegoers should not only watch for Lovi and Jen's heated encounters, but also their confrontation scenes as they play two women determined to win the heart of award-winning actor Paulo Avelino.
Lovi says her most memorable scene in the movie is her fight scene with Jennylyn Mercado, which took almost five hours to shoot. "I was bruised up and black and blue after the scene, which we shot on the last day," Lovi says, "but it was all worth it." It also helps that Lovi's co-actress Jennylyn is a pro. "She's one of the young actresses that I really admire," confesses Lovi.
Of course, Lovi knows that showing skin onscreen is part of maturity as an actress. She has done so a number of times in magazine covers and Regal movies such as My Neighbor's Wife, Yesterday, Today & Tomorrow, among others.
But over and above showing her sexy body, one would feel her depth and growth as a young actress recognized several times over by various award-giving bodies.
Jen, meanwhile, is referred to in showbizlandia as a young, hot mama for being able to maintain her svelte figure even when she already has a son.
No wonder, men still find her attractive with such strong sex appeal.

This movie also stars Joem Bascon, Hayden Kho Jr, Tim Yap, Alex Castro, Ahron Villena, Carmi Martin, Ariel Ureta, Buboy Garovillo, Timmy Cruz, Carlo Gonzales, Tom Rodriguez, Kat Alano, Cai Cortez, introducing Carla Dunareanu and with the special participation of Ms. Snooky Serna.



SYNOPSIS. In the story, Vivian (Lovi) is sole heir to a business empire. Sheila (Jennylyn) is Vivian's friend who is a lifestyle magazine editor. Meanwhile, Philip (Paulo) is the hottest bachelor in town engaged to be wed to Vivian.
However, a scandalous revelation tears the three characters' worlds apart.
Time passes by and the supposed bride becomes the lover and the supposed lover is now the bride.
What's more, the former bride (Vivian) becomes a fearfully revengeful lover who is relentless in her quest to get her ex-fiancé back.
Crisp dialogue and fierce confrontation scenes make The Bride and The Lover a highly-charged erotic-drama worth watching.
The movie tries to answer tough questions such as: Will you put friendship at stake for the love of a man? Is friendship a strong foundation for serious relationships?
Find out when The Bride and The Lover opens in theaters on May 1, 2013.

Also, log on to The Bride and The Lover Official Facebook www.facebook.com/TheBrideAndTheLover and follow Regal's twitter account www.twitter.com/RegalFilms for updates on this summer's hottest offering, The Bride And The Lover.