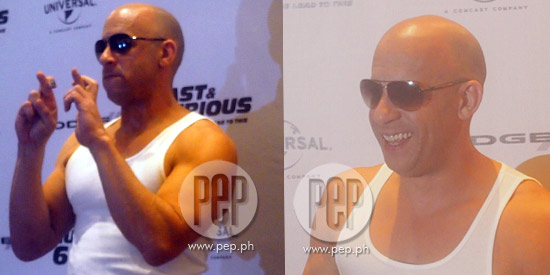 When asked if he plans to shoot Fast and Furious in the Philippines in the future, Vin Diesel crossed his fingers. He says he will suggest that producers shoot movies here in the country. "I'm loving it so much that I know that when I go back to L.A. and I'm in a story meeting, I'm going to say, 'What about the Philippines?'"
Photo: Jocelyn Dimaculangan
Vin Diesel was in a playful mood when he entered the ballroom of Fairmont Hotel in Makati City to meet with members of the Asian press.
Wearing a white sando that emphasized his well-developed biceps, the Hollywood actor clapped his hands to enliven the group of reporters who waited for him last May 16. Vin Diesel was particularly happy to fulfil his lifelong dream of visiting the Philippines.
WHY CHOOSE THE PHILIPPINES?
A journalist from Jakarta, Indonesia asked Vin Diesel why he chose to hold the premiere of
Fast and Furious 6
in Manila. The jampacked premiere was held last May 14 at the Mall of Asia with Vin Diesel, Michelle Rodriguez, Luke Evans, and Gina Carano in attendance.
Fast & Furious 6
is scheduled to open in Philippine cinemas tomorrow,
May 24
. (Read:
PEP's review of
Fast and Furious 6
) In response, the American actor said, "Maybe because the Philippines is
incredible
." This prompted Pinoys to cheer and even Michelle Rodriguez (who was seated beside him) clapped her hands to show her agreement. "Maybe because I've wanted to go see the Philippines my whole life," he admitted. "I wouldn't have traded this trip to the Philippines for anything. "The people here are so wonderful. They don't even realize it. People of the Philippines don't realize that they almost start out with this kind of warmth and this welcoming energy that you don't see everywhere." He then shared his observations about Filipinos. "I noticed it from Manny [Pacquiao] sending us signed boxing gloves to the street vendor who does things with a warm smile and lots of love." Vin Diesel believes that the Philippines is "a special place." In fact, he plans to suggest to producers to consider shooting movies in the Philippines. "I'm loving it so much that I know that when I go back to L.A. and I'm in a story meeting, I'm going to say, 'What about the Philippines?'" Photos of him riding a jeepney went viral on social networking sites recently. When asked about this experience, Vin Diesel said: "I love riding the jeepney.