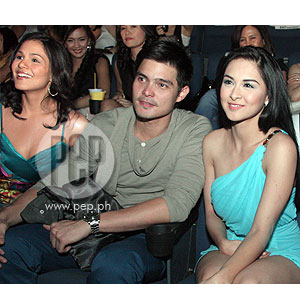 One True Love
received a grade of "B" from the CEB (Cinema Evaluation Board) and was rated PG-13 by MTRCB (Movie and Television Review and Classification Board.
Photo: Noel Orsal
When I saw the trailer, I deduced: It seems like nothing is quite striking about One True Love.
The motorcycle accident and amnesia reminded me of Meteor Garden.
The plot narrating the struggles of two ladies over the affection of a guy could not be exactly qualified as extraordinary.
That scene where Marian Rivera was begging Dingdong Dantes not to leave her was quite pitiable for my taste.
BUT when I saw the movie, I realized I made a hasty generalization.
THE STORY. Migs Mijares (Dingdong) was so in love with Joy (Marian) that in less than a year, he asked for her hand in marriage.
Even when Bela (Iza Calzado), the childhood sweetheart of Migs, returned from Canada and made an attempt to win him back, Migs's decision to marry his present girlfriend was resolute.
But early on, a tragedy struck the blissful marriage of Migs and Joy.
The guy met an accident, which caused his isolated retrograde amnesia. His last memory was that of his first and ex-girlfriend, and he forgot everything about his wife.
Joy did her best to bring things back to normal, but her husband could not feel any emotional connection with her. Migs could not take his mind off his first love. Meanwhile, Bela tried so hard to distance herself from her Migs, but the latter was persistent.
For her part, Joy became too interfering, always checking the whereabouts of her husband and monitoring his calls. This provoked Migs to make a choice: Be with his first love.
The wife made a last-ditch effort to save the marriage by talking to Bela but the meeting was futile.
At first, Migs and Bela were happy. But after a while, the guy started missing his wife. He became confused again, and slowly, he realized the girl who is his one true love.
My personal notes:
(1) The plot is too fictive, but the treatment is realistic. People can relate to most of the scenes because the characters' reactions are very instinctive. Walang pilit. Walang pagpapanggap.