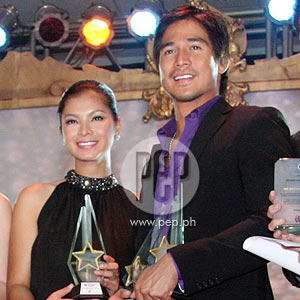 Piolo Pascual and Angel Locsin's movie, now called
Love Me Again
, will be screened in the Philippines by January 15, 2009. The love team partners were photographed together during the 22nd Star Awards for Television. Piolo won as Best Actor while their ABS-CBN teleserye
Lobo
bagged the award for Best Primetime TV series.
Photo: Noel Orsal

The Star Cinema film Land Down Under starring Piolo Pascual and Angel Locsin will now be known as Love Me Again. Piolo Pascual left this morning, December 3, to prepare for the Star Cinema International Film Festival that will take place in the United States this weekend.

His leading lady in the movie, Angel Locsin, is scheduled to leave tomorrow to join him during the world premiere of their film.

Sam Milby will also be present to attend the screening My Big Love and conduct meet-and-greet sessions with his fans.

Catch them on the following dates:
December 6 (Saturday)
My Only U (9 am-11 am)
My Big Love (11am-1 pm) with meet and greet with Sam Milby
Love Me Again premiere (2 pm-4 pm / 8 pm-10 pm)
Meet and greet with Piolo Pascual and Angel Locsin (5:15-7:15pm)
Venue: Wadsworth Theatre, Los Angeles
Address: 11301 Wilshire Blvd. Los Angeles, CA 90073



December 7 (Sunday)
Love Me Again (2pm-4pm / 8pm-10pm)
Venue: Fox Theatre, San Francisco
Address: 2215 Broadway St., Redwood City CA 9406363



Directed by Rory Quintos, Love Me Again is about a Bukidnon native named Migo (Piolo) who wants to reclaim the ranch that his family had lost after his father's death.

In the process, he is smitten by the beauty of his first love Arah (Angel) who has grown to become the famous rodeo queen of Bukidnon. He falls in love with her all over again and resolves to win back her heart as well.
However, Arah is already engaged to an Australian rancher named Brian Sullivan. Being the eldest daughter of a poor cowboy, she feels compelled to accept this man's offer of marriage in order to give her family a better life, no matter how much she still loves Migo.
Arah leaves Bukidnon, along with a group of Pinoy cowboys who have been hired to work in the vast and lonely Australian ranch, which is even bigger than Bukidnon.
Arah thinks it's all over between her and her great love, but two years later, Migo arrives in Australia to work as a cowboy and, more importantly, to get Arah back.
Can their love bloom again in the dry landscape of the land down under? Will Migo be able to reclaim the love he has lost, or will he learn to let her go and start anew?


Meanwhile, My Big Love is about the budding romance between Macky (Sam Milby) and Aira (Toni Gonzaga). Macky is an obese chef who is dumped by Niña (Kristine Hermosa), the girl of his dreams. Embarrassed by his size, Macky asks Aira, a personal trainer, to help him lose weight in hopes of winning Niña back. As it turns out, he starts falling in love with Aira, but she is set to go to Japan to earn extra income for her family. When Aira comes back from Japan, Macky has already lost a great deal of weight, thus earning the perfect physique that would please Niña, who is now his girlfriend. Will Aira be weighed down by falling in love with Macky?
For tickets to
Love Me Again
and
My Big Love
, call 1-800-227-9676.