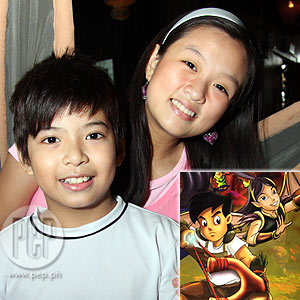 Nash Aguas and Katrina "Hopia" Legaspi lend their voices to the characters of Bubuy and Anna Manananggirl (inset) in
Dayo sa Mundo ng Elementalia
. The animated film opens in cinemas nationwide starting December 25.
Photo: Noel Orsal & Cutting Edge (animation)
With the release of Dayo sa Mundo ng Elementalia, Cutting Edge Productions promises another first in Philippine cinema. It is touted as the Philippines' first all-digital, full-length animated movie. Unlike Ibong Adarna and Urduja, the production of Dayo is completely paperless. Animation is rendered through a combination of traditional and 3D technologies.
Much has been said about the sheer talent of Pinoy animators but because of the lukewarm condition of the animation industry in the country, these animators are forced to search for greener pastures elsewhere. Many are employed by Disney and Warner studios, while some are subcontractors of animation houses. I can just imagine the excitement and dedication over this animated film in its two-year span of production.


It is interesting to note that the Cinema Evaluation Board has given the animated film a Grade "A," allowing the filmmakers to receive a 100 percent amusement tax rebate. Dayo is endorsed by the Department of Education and the National Council for Children's Television.
THE PLOT. Dayo unfolds like a typical underdog story. The shy and timid Bubuy (voiced by Nash Aguas) is always picked on by the bullies in school. He dreams of soaring the vast sky and flying high above the clouds in order to escape his humdrum life. His life is turned upside down when his grandparents are abducted by elementals. Together with a teen manananggal named Anna (voiced by Katrina "Hopia" Legaspi), they cross the portal separating our world and Elementalia. With the help of Narsi (voiced by Michael V.), the narcissistic and feeling cool tikbalang, and Nuno (voiced by Peque Galaga), the wise sage, Bubuy braves the dangers that lurk in Elementalia to save his grandparents before the next full moon rises to its peak. His adventures in Elementalia transform Bubuy from zero to hero.
THE VERDICT. Dayo is brimming with authentic Filipino elements culled from folklore, myths, pop culture, and even Pinoy slang. Mythical creatures abound in Elementalia, but Dayo reanimates them in a manner never seen before. Here, you'll see a diwata (fairy) that transforms itself into an evil bruha (witch), mermen and mermaids defying the law of gravity, an evil kapre who speaks Waray, a band of shape-shifting aswangs and tiyanaks, a cross-breed between an alitaptap and a tutubi (aptly called alitubi), and many more. These creatures can give Pokemons a run for their money.
The voice acting from the star-studded cast is also commendable. The rest of the ensemble consists of Pokwang as Vicky, Anna's yayananggal; Laurice Guillen as diwata/bruha and kapre; Noel Trinidad as Lolo Meong; Nova Villa as Lola Nita; and Johnny Delgado as Carpio, Anna's father and Elementalia's manananggol.
The laudable soundtrack and musical score, likewise deserve special mention. Lea Salonga recorded the theme song "Lipad" while Roots of Nature performed a more upbeat version of the song. Jessie Lasaten took over production duties and records the musical score with a full orchestra under the baton of Gerard Salonga. In order to jive with the feel and mood of Elementalia, the orchestral score is accompanied with ethnic Pinoy instruments, courtesy of Joey Ayala.
Dayo has its own share of shortcomings as well especially on the technical side. There are glitches here and there with regards to animation rendering and shading. There are scenes where the images become flat, as if they have turned into cardboard figures and paper dolls. Cutting Edge Productions could really use some help in this department, especially if they plan to turn this animated film into a trilogy.
The film is intended to make the kids giggle in excitement and jump for joy, but for adults, the simplistic story will get in the way of sensible enjoyment. The plot is as basic as it can get. Perhaps intentionally, in order to help the kids easily digest what the film has to offer.

See how 500 animators from Naga, Dumaguete and Baguio created the fanciful world of Elementalia. Let your imagination soar with Bubuy and Anna as they interact with the various characters whom they meet along the way.
Be part of history when you and your family watch the first-ever animated film to take part in the 34-year history of the Metro Manila Film Fest.


Dayo sa Mundo ng Elementalia will open in cinemas nationwide starting Christmas Day, December 25. The official soundtrack of the movie is now available in record bars, courtesy of Sony BMG.