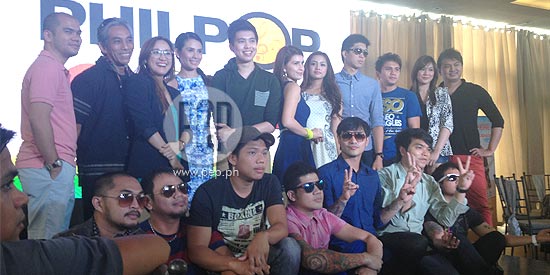 The song interpreters of Philpop 2013 include (L-R, standing) Silverfilter, Joey Ayala, Julianne Tarroja, Karylle, Kimpoy Feliciano, Tippy Dos Santos, Denise Barbacena, Ace Libre, Yael Yuzon, Kaye Cantong and Rey Cantong. The other interpreters are (L-R, seated) Banda ni Kleggy, Kean Cipriano, Kleggy and Ney Dimaculangan. The grand finals of Philpop 2013 will take place on July 20 at the Meralco Theater.
Photo: Rizza C. Benedicto
"A song starts with a seed idea like most creative works. How a song blooms into a potential hit or classic is in it a most interesting process," says Maestro Ryan Cayabyab, Philpop executive director.
During the June 5 launch of Philpop 2013 at Ariatto Function Centre, Quezon City, songwriters and interpreters were introduced to the press. Karylle, Yael Yuzon, Christian Bautista, Tippy Dos Santos, Kean Cipriano and Ney Dimaculangan were among the singers who graced the event.
Cayabyab admits that the choice of interpreters, negotiations with managers and labels, coordinating the recording schedule was stressful. But he was quick to point out: "All the effort was well worth it."
PHILPOP. Philpop Music Fest Foundation, Inc., is chaired by business tycoon-philantrophist Manuel V. Pangilinan and led by Ogie Alcasid and Noel Cabangon.
For a year and half now, Philpop has been actively pushing with its goal of reviving interest in songwriting and composing. This year, Philpop received 3,383 entries not only from Filipinos in the country but all over the world. This year's focus, "Your theme, your genre, your song," encouraged a lot of Filipinos to write a song limited only by their creativity.
TOP 12 SONG INTERPRETERS. After months of tedious screening and evaluation, the jurors (including Ryan Cayabyab) have shortlisted 12 finalists for the Philpop 2013 Music fest.


These songs will be interpreted by the following artists:


Christian Bautista for "Araw, Ulap, Langit" written by Marlon Barnuevo.
Karylle for "Sa 'yo Na Lang Ako" written by Lara Maigue
Sam Concepcion, Tippy Dos Santos and Quest for "Dati" written by Thyro Alfaro and Yumi Lacsamana
Kean Cipriano of Callalily and Kleggy of Banda ni Kleggy for "Space" written by Raffy Calicdan
Kimpoy Feliciano for "Sana Pinatay Mo Na Lang Ako" written by Myrus Apacible
Six Part Invention for "Time Machine" written by Kennard Faraon
Yael Yuzon of Sponge Cola for "Segundo" written by Paul Armesin
Joey Ayala, Gloc-9 featuring Denise Barbacena and Silverfilter for "Papel" written by Joey Ayala
Ace Libre of Never the Strangers for "Sometimes That Happens" written by Nino Regalado ad Adrienne Sarmiento-Buenaventura