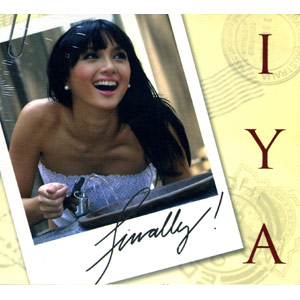 Watch Iya Villania perform songs from her debut album
Finally!
at SM Southmall on November 9, SM Manila on November 22, and SM Marikina on November 29. Her 12-track album is now available courtesy of ALV Talent Circuit and Viva Records.
Photo: Courtesy of ALV Talent Circuit

Iya Villania's reason for coming to the Philippines was because of her first love. And after years of waiting, finally, her first love has finally been recognized. Although she already has Drew Arellano in her life, Iya has long been in love with her first passion: singing. And now is her time to be loved back.
In her five years in showbiz, Iya has appeared in several shows such as GMA-7's Click, ABS-CBN's Lastikman, and the movie Exodus: Tales from the Enchanted Kingdom. Why is she entering the music industry just now?
"Well, I was given opportunities in other fields kaya siyempre, whatever comes your way, yun ang gagawin ko. When I came here [to the Philippines], I wanted to be a singer but they made me audition for other shows, to host, to act, kaya yun ang mga pinagawa nila sa akin."
Given the strong interest in her album, the MYX VJ just might be the one introducing the popular songs from her debut album titled Finally! During the October 28 media launch of her 12-track album, Iya told PEP (Philippine Entertainment Portal) about her song choices. "The album is basically guitar-driven pop," explains Iya. "It took a while to choose the songs because I had to get them under my skin first."


According to her manager Arnold Vegafria, there are plans to launch her album in Indonesia, Malaysia, and Thailand next year. Produced by Benjamin Gabitan, Vanessa Marcelo and Mally Paraguya, and released by ALV Talent Circuit and Viva Records, Finally! contains eight originals and four cover songs. These include the guitar-driven "Spell's Broken," the country-flavored "Morning After," the R&B-tinged "Definitely Lonely" and the tender ballad "Do You Think We'll Be Alright?"
The Fil-Australian TV host-turned-singer cites Whitney Houston, Alicia Keys, Janet Jackson, Mariah Carey, Destiney's Child, and Stevie Wonder among her major influences.
Of particular interests are her remakes, namely: "It Takes A Man and A Woman" (originally sung by Teri de Sario), "I Never Cry" (an Alice Cooper original), and her carrier single " My First Broken Heart," a ballad popularized by Tracie Spencer during the '80s.
Iya got a little help from well-meaning friends in the music biz as well. The popular pop-rock group, Hale, arranged "It Takes A Man and A Woman" while Wolfgang lead guitarist Manuel Legarda arranged "I Never Cry."
Mayonnaise's Monty Macalino likewise pitched in two original tracks: "Poison" and "With Me Tonight." DJ Brian Cua (producer of Nancy Jane) arranged the carrier single. Mike Villegas (of Color it Red) did "Spell's Broken." Angelo Villegas worked on "Do You Think We'll Be Alright?" Arnie Mendaros (Kyla's producer) takes credit for "Definitely Lonely" and "All Over Me."
Iya also sings a duet with R&B prince Jay-R for the song "Always."
"I love working with Jay-R," gushes Iya. "He's so much fun. He knows what he's doing and he's got such a good ear."
Among all the songs in her album, she personally picked "Always" (by Atlantic Star) as a cover song that she dedicates to her boyfriend of four years, Drew Arellano, because its lyrics fits their colorful relationship.
When not busy with MYX, ASAP, Us Girls and hosting the TV5 show Mysmatch, she makes time for her piano-tinkling, and still prods on with her furtive attempts at songwriting. "I actually have quite of unfinished songs," she confides. "But the problem is that I never get around to finishing them."
Asked to name the highlights of the entire year-and-three-month-long recording process, she points out: "laughing at mistakes, staying up late, finding harmony and doing the cover shoot."
Iya Villania is currently managed by ALV Talent Circuit. She will be performing live to promote her album at the following venues: SM Southmall on November 9, SM Manila on November 22, and SM Marikina on November 29.