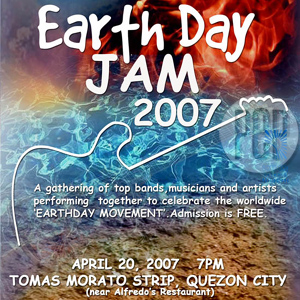 Orange & Lemons, Radioactive Sago Project, Rivermaya, and Up Dharma Down are among some of the bands to take part in Earth Day Jam 2007.
Photo: www.dimitriproductions.com
In celebration of Earth Day this year, concerned groups have put up a street party unlike any other. Earth Day Jam 2007 promises to be a huge street party music tribute to Mother Earth right at the heart of Quezon City. On April 20 (Friday), top bands, musicians, and artists will perform together to celebrate the worldwide Earth Day movement, which was officially started in the country in Silang, Cavite in the year 1989.
DIMITRI Productions, in association with the Government of Quezon City, Department of Environment and Natural Resources, and the Earthday Network Philippines bring together the hottest bands for one night only at the Tomas Morato Avenue Strip, Quezon City. From 7:30 p.m., the audience can appreciate the music of these bands for free while being informed of the need to protect Mother Earth for the future generations.
Free admission.
At the FIRE-AIR STAGE (along Scout Fernandez):
Callalily
Chicosci
Giniling Festival
Itchy Worms
Kitchie Nadal
Lou Bonnevie
Noel Cabangon
Orange & Lemons
Paolo Santos
Paramita
Rivermaya
Rocksteddy
Session Road
Up Dharma Down
At the EARTH-WATER STAGE (along Scout Lascano):
Affinity
Brass Munkeys
Brownman Revival
Bayang Barrios
Cynthia Alexander
Juan Pablo Dream
Lynn Sherman
Mon David
Nina
Pinikpikan
Pido
Raffi
Radioactive Sago Project
Reggae Mistress
Sofia
UP Jazz Ensemble
Wahijuara