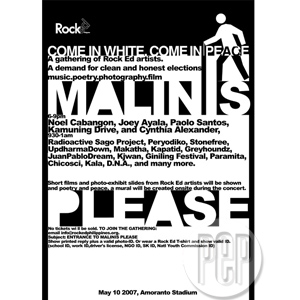 Entitled "Malinis Please!" this free concert is sponsored by Rock Ed Philippines. From 6 p.m. onwards tonight, May 10, Rock Ed artists will gather at the Amoranto Stadium to rally for clean and honest elections.
Photo: Courtesy of Rock Ed Philippines
Rock on for clean and honest elections! On May 10, the Amoranto Stadium in Quezon City will be filled with young Filipinos united by their call for clean and honest elections.
"Malinis, Please!" is an arts, film, photography and music festival organized by anti-poverty organization Rock Ed Philippines. This is a call for each and every voting Filipino citizen to have clean and honest elections on May 14, 2007.
The concert is divided into two parts: the Clean concert and the Honest concert.
The Clean concert starts at 6 p.m. and will feature world music artists such as Cynthia Alexander, and Joey Ayala, as well as acoustic singers Paolo Santos and Noel Cabangon.
From 9:30 p.m. onwards, rock bands will entertain the crowd during the Honest concert. Expect to see performances from Radioactive Sago Project, Peryodiko, Up Dharma Down, Makatha, Kapatid, Greyhoundz, Juan Pablo Dream, Kjwan, Giniling Festival, Paramita, Chicosci, Kala, D.N.A., and many more.
In between sets, short films by Khavn de la Cruz, Pepe Diokno, and John Torres will be screened at the venue. Slideshows by veteran and young photographers like Luis Liwanag, VJ Villafranca, Paolo Picones, Jake Verzosa, Lomomanila and more will be displayed on 50 large-format tarpaulins around the concert area and onscreen as well.
The poetry of National Artist Virgilio Almario and of young poets like Kris Lacaba will also be featured.
Visual artists will paint a mural on the spot while the concert goes on.
Rock Ed Philippines is a non-government organization, composed of private citizens, eminent for its projects against poverty and believes that poverty should end now. It holds alternative classes outside the classroom and hopes to educate the youth through rock culture.
Admission to "Malinis Please!" is absolutely free. All you need to do is to download and print the entrance pass from the Rock Ed website. Sign the print-out and present at the gate with a valid photo-ID. Or, you can also wear a Rock Ed shirt and show a valid ID at the entrance.
Come in white. Come in peace. Malinis Please!
FREE ADMISSION.
Date: May 10, 2007 (6 p.m. onwards)

Venue: Amoranto Stadium, A. Roces Avenue, Quezon City
For more information, visit the Rock Ed website at www.rockedphilippines.org