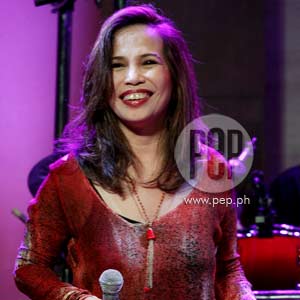 Filipino and Japan-based jazz singer Charito enthralled the Hard Rock Café, Makati City crowd last July 31. Some of the songs performed by Charito include "Against All Odds," "Sunday Morning," and a few Michael Jackson tunes—all impressively and effortlessly delivered in jazz.
Photo: Noel Orsal
Hearing jazz singer Charito shifts with obvious ease from Phil Collins's "Against All Odds" to Maroon 5's "Sunday Morning" to a medley of Michael Jackson hits makes one marvel at the immense talent of the Filipinos when it comes to music.
The truth is that long before YouTube and other internet websites started introducing names to the global market, local talents making waves abroad have already been abundant albeit limited media attention.
Charito's July 31 show at the Hard Rock Café in Makati City only reinforced that fact.
Moving gracefully on the small stage while masterfully dishing out tunes ranging from real jazz materials to cover tunes, Charito only showcased the stuff that enthralled Japan, Asia and both Latin and North America for so many years now.
Performing in Manila once in a while also provides the seasoned jazz chanteuse a chance to reconnect with her roots and countrymen.
"I've been working hard all these years," Charito told PEP (Philippine Entertainment Portal) after the show.
The remark was her humble way of downplaying her well-deserved fame, particularly in Japan.
BREAKING BOUNDARIES. Charito's journey to international fame started in the early '90s, with the release of her debut album titled This Girl in Japan.
The record opened doors for Charito to work and collaborate with topnotch foreign artists like Harry Whitaker, Alex Blake, Wallace Rooney, Maurice White, Cornell Dupree, Buddy Williams, and David Espinozza.
In July 1996, Charito became the first Filipina to grace the celebrated Montreal Jazz Festival, which was attended by an estimated crowd of 70,000.
Charito went on to perform around the globe, visiting countries like Poland, Hong Kong, Singapore, Malaysia, Thailand, Taiwan, Korea, America, Brazil, Germany, and France, among others.
Charito's musical journey has likewise churned out a number of albums following her debut offering: Swing My Way (1991), Shades of Love (1992), Love Of My Life (1993), Forever More (1995), A Time for Love (1998), To The Beat Of Your Heart (1999), They Say It's Wonderful (2003), Non-Stop To Brazil (2004), Nica's Dream (2006), Now And Always (2007), Watch What Happens (2008) and Heal The World: Charito Sings Michael Jackson (2010).
Watch What Happens incidentally witnessed the birth of a beautiful collaboration and friendship between Charito and French jazz legend Michel Legrand.
A GOOD START. "I was very blessed," Charito smilingly looked back on her inspiring career.