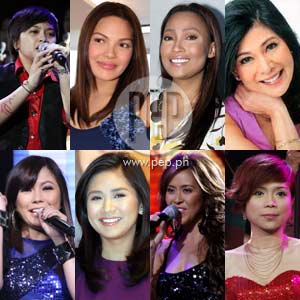 Who among these singers will win the Female Recording Artist of the Year during the 2nd Star Awards for Music? The Philippine Movie Press Club has chosen the following nominees: (from top left, clockwise) Aiza Seguerra, KC Concepcion, Jaya, Joey Albert, Nina, Rachel Alejandro, Sarah Geronimo, and Yeng Constantino.
Photo: Noel Orsal (except Joey Albert)

The Philippine Movie Press Club (PMPC) is set to give out its awards to outstanding singer-recording artists in the 2nd Star Awards for Music, to be held on October 10 at the Lee Irwin Theater, Ateneo de Manila University, Loyola Heights, Quezon City. The awards program starts at 6 p.m.


Featuring the theme "Celebration of OPM Music and Artist," the second edition of the Star Awards for Music honors the country's current crop of pop idols and highly-esteemed music icons. Jolina Magdangal, Christian Bautista and Ms. Kuh Ledesma will serve as the program hosts.
To give special numbers are Nina, The Company, La Diva, the UP Singing Ambassadors, Ballet Philippines, Nanette Inventor and Erik Santos.
Aside from hosting the awards program, Kuh Ledesma will perform the opening number, while singer-comedienne Nanette Inventor will render the show's finale number.

Ms. Pilita Corrales will receive this year's Lifetime Achievement Award. Asia's Queen of Songs started her singing career in the 1950s and is still considered an icon in the music industry, with over 135 albums to her credit. Aside from singing, she distinguished herself as a host for the shows Ang Bagong Kampeon, Tanghalan ng Kampeon and An Evening with Pilita.

In 1991, she received a Lifetime Achievement Award from the Philippine Association of the Record Industry (PARI).

A Star Awards for Music primer will be shown on October 9 at 7:30-8:00 p.m. on Net 25. Singing champion Jed Madela will serve as host. This will be followed by a full telecast of the 2nd PMPC Star Awards for Music on October 11 at 10 p.m. to 12 midnight, also on Net 25.


The 2nd PMPC Star Awards for Music is produced by Mr. Peter Pielago of the Peterworks Record Productions. The show will be directed by Elson Montalbo.

Here is the official list of nominees:
ALBUM OF THE YEAR
Calla Lily/Calla Lily/Sony Music
KC/KC Concepcion/Sony Music
Lapit/ Yeng Constantino/Star Records
Maharlika/ Kenyo /Universal Records
Now Playing/ Juris/ Star Records
Project 6 Cyclemind/6 Cyclemind/Sony Music
SONG OF THE YEAR
"Di Lang Ikaw"/Juris/ Now Playing/ Star Records
"Hanggang Sa Muli" /Kenyo /Maharlika/Universal Records
"Lapit"/Lapit/ Yeng Constantino/ Star Records "Nananaginip"/Calla Lily/Calla Lily/ Sony Music
"Pusong Ligaw"/Jericho Rosales/Change/ Star Records

FEMALE RECORDING ARTIST OF THE YEAR
Aiza Seguerra/ Aiza Seguerra Live/Star Records
KC Concepcion/ KC / Sony Music
Jaya/Real Love Stories/ GMA Records
Joey Albert/ Songs of the Heart/Viva Records
Nina/ Renditions of The Soul/Warner Music
Rachel Alejandro/ Believe/ Sony Music
Sarah Geronimo/ Music and Me/ Viva Records
Yeng Constantino/ Lapit/ Star Records

MALE RECORDING ARTIST OF THE YEAR
Christian Bautista/Romance Revisited: The Love Songs of Jose Marie Chan/Universal Records
Eric Santos/ The Jim Brickman Songbook/ Star Records
Gary Valenciano/As 1/Universal Records
Gino Padilla/Let Me Be The One/Vicor Records
Martin Nievera /As Always/ Poly East Records
Noel Cabangon/Byahe/Universal Records
Piolo Pascual/Decades/ Star Records

DUO/GROUP ARTIST OF THE YEAR
Eurasia/Eurasia/ Viva Records Freestyle/Playlist/ Viva Records
La Diva/ GMA Records and Sony Music
The Company/ Lighthearted/ Viva Records
True Faith/Love and Parade/ Viva Records
Side A /Only One/MCA Music Inc.
XLR8/ XLR8/Viva Records

MUSIC VIDEO OF THE YEAR
Babe/ Piolo Pascual/Star Records
Director: Mae Cruz
Beautiful Girl/ Christian Bautista /Universal Records
Director: Treb Monteras II
Because of You/ Sabrina/ MCA-Universal Records
Director: Treb Monteras II
Kahit Maputi Na Ang Buhok Ko/ Noel Cabangon/ Universal Records Director: Galileo Te
Kasiping/La Diva/ GMA Records
Director: Louie Ignacio
Pusong Ligaw/ Jericho Rosales/Star Records
Director: Mark Ocampo Why Can't It Be/ Gino Padilla /Vicor Records
Director: Marla Ancheta

DANCE ALBUM OF THE YEAR
Eurasia/Viva Records
Hearthaches and Disco lights/Poly East Records
Pop Girls/Viva Records
Masculados Dos/Universal Records
Supahdance 2 / Star Records
XLR8/ Viva Records

POP ALBUM OF THE YEAR
As Always/ Poly East Records
Aiza Seguerra Live/ Star Records
As 1/Universal -Poly East Records
Erik Santos: The Jim Brickman Songbook/ Star Records
Music and Me/Viva Records
Renditions of The Soul/ Nina/Warner Music Phils
Romance Revisited: The Songs of Jose Marie Chan/Universal Records

MALE POP ARTIST OF THE YEAR
Christian Bautista/Romance Revisited: The Love Songs of Jose Mari Chan/Universal Records
DJ Myke/Homework/Ivory Music
Erik Santos/ The Jim Brickman Songbook/ Star Records
Gary Valenciano /As 1/Universal Records and Poly East Records Jericho Rosales/Change/Star Records
Martin Nievera/As 1/Universal Records and Poly East Records
Piolo Pascual/Decades /Star Records

FEMALE POP ARTIST OF THE YEAR
KC Concepcion/ KC/ Sony Music
Jaya/Real. Love. Stories/ GMA Records
Jennylyn Mercado/Love Is../Viva Records
Nina/ Renditions of the Soul/Warner Music
Rachel Alejandro/Believe/Sony Music
Roselle Nava/ Forever Love Songs/Viva Records
Sarah Geronimo/ Music and Me/ Viva Records

ROCK ALBUM OF THE YEAR
Calla Lily/ Sony Music
Carino Brutal/Slapshock/Poly East Records
In Love and War/ Sony Music Lapit/ Star Records Mornings and Airports/Poly East Records
Project 6 Cyclemind/ Sony Music
Spongecola/Universal Records

ROCK ARTIST OF THE YEAR
6 Cyclemind/ Project 6 Cyclemind/ Sony Music
Calla Lily/ Calla Lily/ Sony Music
Rivermaya / Closest Things to Heaven/Warner Music
Sponge Cola/Sponge Cola/Universal Records Sugarfree/Morning and Airports/ Poly East Records Slapshock/Carino Brutal/ Poly East Records
Yeng Constantino/ Lapit/Star Records


ACOUSTIC ALBUM OF THE YEAR
Aiza Seguerra Live/ Star Records
Addicted To Acoustic 2/ Vicor Music
I Love Acoustic Too/ MCA Music Inc.
Lighthearted/ Viva Records
Mad About Acoustic/ Viva Records
Intimately Acoustic/ Viva Records
Renditions of the Soul/Warner Music Phil.


FEMALE ACOUSTIC ARTIST OF THE YEAR
Aiza Seguerra/Aiza Seguerra Live/ Star Records
Miki Hahn/ Intimately Acoustic/ Viva Records Nina/Renditions of The Soul/Warner Music Phils.
Princess Velasco/ Addicted to Acoustic 2/ Vicor Records
Sabrina/I love Acoustic Too/MCA Music Inc.
Suy/Simply Suy/Ivory Music


MALE ACOUSTIC ARTIST OF THE YEAR
Chris Cayzer/ The Only Thing / Warner Music Phil.
Davey Langit/ Mad About Acoustic/Viva Records Toto Sorioso/ Totoismo/ MCA Music Inc.

RAP ALBUM OF THE YEAR
Bagsakan Nato/Ivory Music
Chika Lang 'Yon/ Alpha Records
Clubzilla/ Dongalo Wreckords
Matrikula/ Sony Music
Ready or Not/Poly East Records


RAP ARTIST OF THE YEAR
Andrew E./Clubzilla/ Dongalo Wreckords
Blanktape/Chika Lang 'Yon/ Alpha Records
Dagtang Lason/Bagsakan Na'to/Ivory Music
Gloc-9/ Matricula/ Sony Music
Young JV/ Ready or Not/ PolyEast Records


R&B ARTIST OF THE YEAR
Amber Davis/ Filam/Viva Records
Kris Lawrence/Moments of Love/MCA Music Inc.
Jay R/ Jay R Sings OPM/ Universal Records


REVIVAL ALBUM OF THE YEAR
As 1/ Universal Records and Poly East Records
Aiza Seguerra Live/ Star Records
As Always/ Poly East Records
Byahe/ Universal Records
Decades/ Star Records
Renditions of The Soul/ Warner Music
Romance Revisited: The Love Songs of Jose Marie Chan/Universal Records


NEW MALE RECORDING ARTIST OF THE YEAR
Aljur Abrenica/ Aljur Abrenica/ GMA Records and Sony Music
Bryan Termulo/Bryan Begins/ BWB Records and Music
Charlie Green/A Friend Like You/ Viva Records
Kid Camaya/ Soul Session/ Ivory Music
Davey Langit/Mad About Acoustic/ Viva Records
Geoff Taylor/Frencesca -Geoff/GMA Records
Rhap Salazar/ Rhap Salazar/Star Records


NEW FEMALE RECORDING ARTIST OF THE YEAR
Carol Leus /Carol Leus/ Sunrays Music Frencheska Farr/Frencheska- Geoff/GMA Records
Gretchen Espina/ Shining Through/ Sony Music
Hanna Flores/Hanna Flores / Star Records Princess Velasco/Addicted To Acoustic 1/Vicor Records


ALBUM COVER DESIGN OF THE YEAR
As Always /Poly East Records
Aiza Seguerra Live/Star Records
As 1/Universal Records and Poly East Records
Change/ Star Records
Decades/Star Records
Erik Santos: The Jim Brickman Songbook
KC/Sony Music
Homework/Ivory Music
White Lace and Promises/Poly East Records


COMPILATION ALBUM OF THE YEAR
Kris Aquino/Blessings of Love/Universal Records
Kris Aquino/Greatest Love/Universal Records
Paalam, Maraming Salamat Pres. Cory Aquino/Star Records
Sayo Lamang/ Star Records
Senti 1/Viva Records
Side A /Freestyle Back to Back/Viva Records
The Best of Mga Awit Kapuso/Gma Records


NOVELTY ARTIST OF THE YEAR
Blakdyak / Sino Ba?/Viva Records
Chris Tsuper Nicole Hyala/ 'D Nakakalurkei na album/ Ivory Music
Masculados Dos/Masculados Dos/Universal Records
Mystica / I've Got The Power/ Mystica Productions and Viva Records
Ritchie 'D Horsie/The Return of The Horseback/ Warner Music


NOVELTY ALBUM
D' Nakakalurkei Na Album/Ivory Music
I've Got The Power/ Mystica Productions and Viva Records
Masculados Dos/ Universal Records
The Return of The Horseback/Warner Music
Sino Ba? /Viva Records


NOVELTY SONG OF THE YEAR
Nagmahal Ako ng Bakla/Ivory Music
Mahal Kita Kasi/ Ivory Music
May Ganun?/Warner Music
Sino Ba?/ Viva Records


JAZZ ARTIST
Charmaine Clamor/ Jazzi Pino/Viva Records
Charlie Green/A Friend Like You/Viva Records