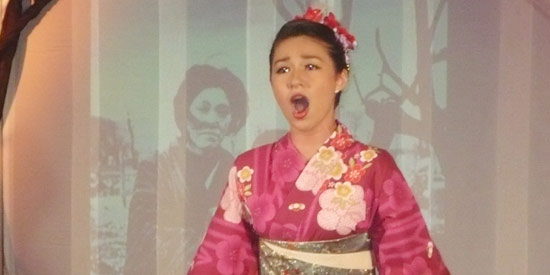 Giacomo Puccini's Madame Butterfly is both a celebration of life as it is of music.
"Music is a gift from God, in that long after our breath has gone, we'd still hear it," says Dr. Anton Juan, multi-awarded international director for theater.
"That's what happens to music. Long after you've lived your life in the theater for the night, and you leave the doorsteps, the music stays.
"And you remember that it is the gift of theater, the father of the arts; and of music, the mother of the arts."
As director in the restaging of Puccini's most famous opera, Anton Juan gives Madame Butterfly—which he says "is very familiar to all of us"—a new take.
In no way would lovers of theater and the music arts better appreciate the opera than having a story that's close to home, he believes.
"I lived with it as a young child, going with my mother through Intramuros.
"Because my mother was a social worker going through Tondo, I would go with her sometimes.
"And there was a familiar phrase that I would always hear... 'hanggang pier lang'.
"We know that, don't we? It's like, 'this woman was left by an American G.I., right? It happens in Clark [Air Base, Pampanga], and in Cafe Havana, in Makati.
"Madame Butterfly is not syncretic. Meaning, it's not only within itself, at the moment.
"It's not a formalistic opera that makes it great; (rather) it is diachronic, which means that it speaks of time and a story that has existed fromMedea who's left by Jason (in the Greek play by Euripides, Medea), to the moment in Cafe Havana where a woman aspires to marry a foreigner, (or) has a child by a foreigner, but was left behind."
SHATTERED CULTURES. Speaking before the media, including PEP.ph (Philippine Entertainment Portal), at a recent presscon held at the CCP Little Theater lobby, Dr. Anton Juan shared his thoughts eloquently.
"An afternoon of poetry," remarked Ms. Irene Rada, CCP PR and Linkages Department Head, appreciating the theater guru's vision.
"I thought that I was offered to do Madame Butterfly and probably things come to our lives at the proper time," director Juan said.
"I believed that things have crystalized to this moment for me to speak again about another woman that we can relate to in our society.
"There will always be the story of pure love that hopes to be caressed and cradled. But, suddenly, that cradle melts and breaks apart.
"And what is left is not only a woman, but also the child.
"What is left is not only a pure culture, but also a culture that is colonized, dominated and shattered to pieces.