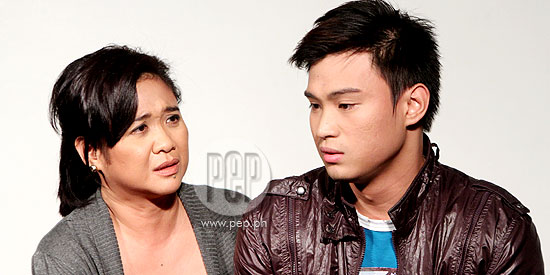 In adapting Lino Brocka's 1980 classic to the present, the audience will find that, while details of Bona's character have been changed, the stage adaptation promises to retain the essence of the film—it maintains Bona's crazed worship of an untalented starlet, magnifying a fanaticism that consumes her being. Bona (Eugene Domigo, left), is a spinster call center agent who is a die-hard fan of reality search Star for Tomorrow contestant, Gino Sanchez (Edgar Allan Guzman, right).
Photo: Melo Balingit
Lino Brocka's 1980 film, Bona, is one of Philippine Cinema's classic gems. The Filipino film made it to the 1981 Cannes Film Festival's Director's Fortnight category.
Written by Cenen Ramones, Bona is likewise included in The Museum of Tolerance (Los Angeles) "100 Best Films of the World."
Superstar Nora Aunor's portrayal of the film's pitiful protagonist— an obsessive fan-girl of a wannabe starlet—also earned for her the Best Actress award during the 1981 Gawad Urian of the Manunuri ng Pelikulang Pilipino.
As the highly-esteemed Bona is now an iconic work in Philippine cinema, PETA (Philippine Educational Theatre Association) braves adapting the Brocka original to a stage play as part of its 45th anniversary.
PETA admittedly faces several challenges in the mounting of this production.
For one, the stage is a different medium altogether, with different set of strengths and weaknesses. A second challenge is adapting the 1980 setting of the film to the present, which will necessitate changing some of the film's details.
PETA has apparently surpassed these challenges, because now it proudly announces its staging of Bona from August 24 to September 23, 2012 at the PETA Theater Center.
EUGENE DOMINGO. During the press conference for the play, award-winning comedienne Eugene Domingo, who plays Bona, is asked whether she aims to match Superstar Nora Aunor's portrayal of Bona.
The versatile Eugene, who started in theater and whose own body of work spans performances in drama, tragedy, satire, classic and modern stories, and comedy, answers:
"Of course, of course, lahat maku-compare—ang execution, ang pagganap ko. E, given na yun na maku-compare.
"But consciously, we are trying to show you something different, and I hope maa-appreciate ninyo dahil lahat tayo, makaka-relate."
Bona director Soxie Topacio and playwright Layeta Bucoy are asked: Will the stage adaptation retain the poignant scenes of Bona? What about its violent, stunning ending? How far off will the characters be from their contemporary versions?
Layeta says Bona is still the story "of a worshipper whose kind of worship for her chosen god sustains and consumes her at the same time."
In her playwright's note, Layeta explains that the character's essence will not only center on the things Bona "gives to and gives up for her chosen god," but will go deep into the "web of factors which renders Bona an easy prey to predators."
She adds, "We wanted the character to become three-dimensional. Ine-explore talaga yung gilid-giliran ng kanyang pagkatao, yung pinanggalingan niya, ano yung nakaraan niya, bakit siya napunta sa estadong ganun, ano yung nagpuwersa sa kanya upang mag-decide siya na tulungan itong si Gino?"
Brocka's Bona is, in obvious ways, not going to be like PETA's Bona.
Brocka's film made Bona a college student who was dependent on her parents's finances. This detail gave Bona the background of someone who could live a reasonably steady existence, which she, however, turned her back on in order to devote her life to Gardo (Phillip Salvador).