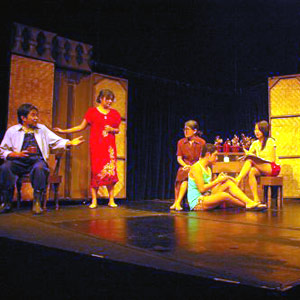 Unag Ulan ng Mayo
is being staged by The Harlequin Theatre Guild at De La Salle-College of St. Benilde from October 9-11.
Photo: Courtesy of Harlequin Theatre Guild

The Harlequin Theatre Guild (HTG), the resident theater organization of De La Salle University, will be re-staging its major production titled Unang Ulan ng Mayo. Performances are slated for October 9 (7 pm), October 10 (10 am, 3 pm and 7 pm) and October 11 (3 pm and 7 pm) at the Black Box, School of Design and Arts Building, De La Salle-College of St. Benilde.
Unang Ulan ng Mayo, written by 1997 Don Carlos Palanca Awards winner John Iremil Teodoro, was first staged by the Harlequin Theatre Guild last Season 2007-2008 at the Tanghalaang Huseng Batute, Cultural Center of the Philippines. The three-act play is directed by Raffy Tejada, senior member of Philippine Educational Theater Association (PETA) and the Guild's artistic director.
Unang Ulan ng Mayo is about the lost of innocence of Victor, a polio victim. He discovers the beauty of love and the pangs of truth as he falls in love with Efren, who claims to be a godson of Victor's father from Manila. This is set in a remote farming village called San Anghel in Antique during the planting season of May, which marks the coming of the first rains of the year. It was during the first rain of May that Efren arrived in San Anghel.
A relationship blossomed between Victor and Efren but it ends tragically when they discovered that truth about their real identities.
Tickets are priced at Php200. You may reserve tickets through Rouchelle Dinglasan, the Guild's Marketing Head, at 0906-4208218 or call Janeth Salcedo, Cultural Arts Office Secretary, at 524-4611 loc. 702. You may also send an email to harlequintheatreguild@gmail.com