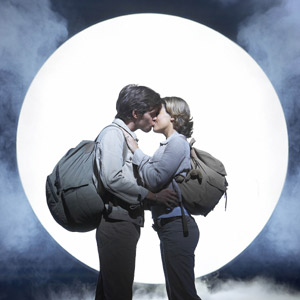 Mamma Mia! features 22 hit songs of ABBA. The musical will be staged at the Cultural Center of the Philippines from January 24 to February 12, 2012.
Manila is ready to watch Mamma Mia!


The international tour of the highly-anticipated musical, supported by the classic songs of ABBA, will be staged at the CCP Main Theater starting January 24, 2012 now been extended until February, 12, 2012 for a limited season only!
Mamma Mia! creative producer, Judy Craymer, first met Björn Ulvaeus and Benny Andersson, the song-writing geniuses behind ABBA. She was specially inspired by the song The Winner Takes It All, its lyrics telling a roller-coaster story of love and loss, which became the basis in creating what would become Mamma Mia!
Craymer did not change the lyrics because if audiences really listened to ABBA's songs, they would notice how they fell into two different generations--the innocent, playful songs like Honey, Honey and Dancing Queen, and the more reflective, emotional songs such as The Winner Takes It All and Knowing Me, Knowing You. From the lyrical prowess of ABBA, the idea of a cross-generational love-story was conceived.
The story of Mamma Mia! unfolds on a Greek island paradise. On the eve of Sophie Sheridan's wedding, she goes on a quest to discover the identity of her father and brings three men from her mother's past back to the island they last visited 20 years ago. The story-telling magic of ABBA's timeless songs propels an enchanting tale of love, laughter, and friendship.
A DECADE ON BROADWAY

It was 10 years ago when Mamma Mia! had their Broadway premiere of at The Winter Garden Theatre. Mamma Mia! then opened to one of the biggest advance sales in theater history.
Mamma Mia! celebrated its 10th anniversary on Broadway last October--the Empire State Building was lit up pink, white, and blue in honor of Mamma Mia! and at the performance New York's Mayor Bloomberg presented Judy with an official proclamation marking the occasion and declared October 18, 2011 as Mamma Mia! Day.
Mamma Mia! also became the 10th longest running show in Broadway history, surpassing the record previously held by Miss Saigon.
MAIN CAST
The world-class cast of Mamma Mia! premiered their English-language International Tour in Dublin in 2004 and are now currently past their 2000th performance, which was performed in Zurich, Switzerland last November 2. Included in the Manila Season are Sara Poyzer, Sophie Sheridan, Rosie Heath, and Tasha Taylor Thompson.
Actress Sara Poyzer plays Donna Sheridan, the mother of Sophie Sheridan, played by Charlotte Wakefield. Poyzer has performed in hit shows like Othello, Billy Elliot-The Musical, and Merchant of Venice. Wakefield made her West End debut starring in Spring Awakening and also nominated for Best Actress In A Musical at the 2010 Laurence Olivier awards.
Rosie Heath and Tasha Taylor Thompson play Ali and Lisa, Sophie's best friends who help her find her father. Heath trained in Musical Theater and Dance from Master Performing Arts College and has performed in Aladdin, Andrew Lloyd Webber's Whistle Down the Wind, and Les Misérables. Thompson trained in National Youth Music Theatre; and Marilyn Baker School of Dance, Doncaster. She has also performed in Starlight Express, Sylvia in Howard Goodall'sThe Dreaming, and is the captain in Call Me Madam; Frank, Dean and Sammy - Live in Las Vegas.
The international cast has enthralled audiences in Dubai, Germany, Sweden, Prague, New Zealand, Turkey, China, and Tapei. In the UK, Mamma Mia! International Tour became the highest grossing musical the New Castle Metro Radio Arena has ever hosted and has sold over £1 million worth of tickets in the first fortnight at the Bristol Hypodrome. To date, over 4 million people all over the world have now seen the tour and have fallen in love with Mamma Mia!
ABBA MUSIC
The musical has become a global entertainment phenomenon; but it is one that works on a far more elemental basis in which its creators have never lost sight of what they are seeking to achieve. Mamma Mia! personalizes ABBA songs in a fresh, vital, and immediate way that simultaneously retains their pop integrity yet also does something more that is an essential requirement of good musical theatre: to advance an appealing story and comment on it.
Mamma Mia! has not only seen theatergoers dancing in the aisles--reliving memories or discovering the ABBA sound for the first time--but has also seen ABBA GOLD back in album charts everywhere the show has played.
A legacy of extraordinary songs and worldwide record sales of over 360 million have ensured ABBA a lasting popularity. ABBA GOLD, first released in 1992, spent 206 weeks in the album charts, where it debuted at number one. It was re-issued in 1999 to commemorate ABBA's 25th anniversary and remains one of the biggest selling music albums of all-time.
With at least 3,500 records still being sold every day around the world, the ABBA phenomenon is seemingly unstoppable.