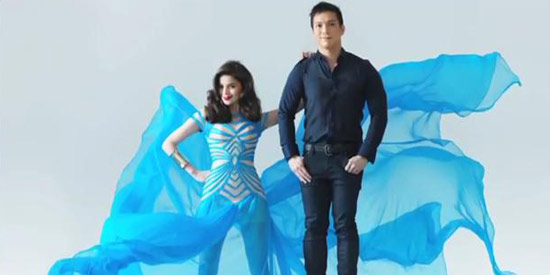 "The cat is out of the bag. I can finally announce it! Yes, I will be on 'America's Next Top Model' wearing the beautiful gowns of Francis Libiran. Congratulations Francis Libiran! You deserve the recognition," Anne Curtis posted on her official Twitter account last Sunday. Anne (left) and Francis Libiran (right) will be seen on the April 30 episode of
America's Next Top Model,
to be aired on ETC.
Photo: Screengrab from YouTube
Celebrity fashion icon, Anne Curtis, has been chosen to model the creations of a Filipino fashion designer who will be featured in America's Next Top Model. Contestants from ANTM's 18th cycle will be wearing Francis Libiran's clothes for a challenge on the reality TV show.
Francis is the third Filipino designer to be featured on
ANTM
after Michael Cinco and Oliver Tolentino. Model Georgina Wilson has also appeared on
ANTM
when she was chosen to model products of Filipino clothing brand Bench. "As a Filipino designer I'm very privileged that I was chosen to be part of
America's Next Top Model
to create a collection for an episode there," said Francis in a video interview uploaded in YouTube.
"I'm very honored to be part of it and I'm so proud like a Filipino can enter this [show]… to showcase what our talents are."
Anne believes that the creations of Francis have the potential to penetrate the international market.
"I think he deserves to be in America's Next Top Model because he just has the talent that's not only for Filipinos but can actually be marketed for the whole world."
As for the appearance of her photos on the Tyra Banks-hosted show, Anne gushed, "I'm super duper duper nervous that Tyra is actually gonna be able to see the pictures. But I'm excited to find out what she has to say." Francis designed four gowns that were worn by Anne during a photo shoot for
ANTM
. This includes a sheer white gown embellished with beads and Swarovski crystals; a blue linear gown with a chiffon skirt; a nude and white linear gown with a high neckline; and a gray ruched dress with a long flowing skirt.

The photo shoot of the multimedia star was conducted by renowned fashion photographer Mark Nicdao.
"I picked Anne for this photo shoot because she represents the perfect Filipina for me," declared Francis.
Anne expressed her loyalty to Francis who has helped her during milestones of her career. "I'd do anything for him, because back then when I was just starting in this industry he made all the beautiful dresses that I wore in the special events of my life."


Fil-Am Michael Carandang, one of the producers of America's Next Top Model, has made it a point to tap Pinoy designers who have shown incredible talent in the field of fashion. "What we really appreciate with Francis is that he really took the time to invest and create looks specifically for the show."

Carandang pointed out, "It is such a monumental pride for all Filipinos to be able to showcase three Filipino talents in an international stage."
Photographer Mark Nicdao is equally proud to be handpicked for this project. "
America's Next Top Model
is [an] iconic show. You know, to be part of the show and to show my work, it's such an amazing feeling.
"I'm glad that people around the world will see that we have like international quality talents here. And I'm so super proud."
(
CLICK HERE
to watch a video about the Pinoy talents to be featured on
America's Next Top Model
)