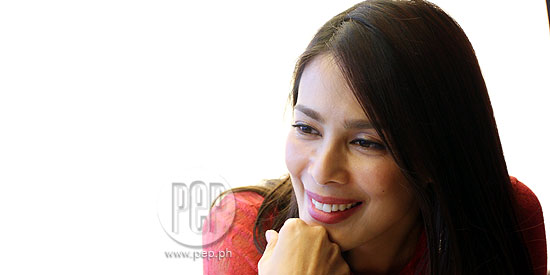 Angel Aquino, fashion and beauty icon, is now the host of Interior Motives, a show that focuses on interior design. It airs every Saturday at 7:00 PM on the Lifestyle Network.
Photo: Melo Balingit
The actress-model said she was raised by her Nanay who had a style of her own. "She loves wood, she puts together what she thinks blend well."
"But me," conveyed Angel, "I appreciate spaces that are functional and beautiful at the same time. I don't like spaces that look like they're showcasing… everything is just there, everything is on display and you cannot touch them.
"I want a place where I can sit on my couch comfortably, watch TV, or read a book with my kids. I want spaces that breathe and live."
She believes that hosting the show is perfect for her, as well as "those who are still trying to look for the perfect style and the perfect design for their homes."
"Here they will see a lot of options in designs that would suit their lifestyle perfectly."
WHAT FASHION HAS TAUGHT ANGEL
Asked how she translates her flair for fashion in Interior Motives, Angel explained, "I featured the bedroom of Rajo Laurel."
Rajo is one of the country's top fashion designers.
She continued, "I asked the designer, 'How do you marry interior design and fashion design?'
"And she said, 'Rajo, being a designer would know which things would look good together. And even if they don't look like they match, you know, you can mix and match!'"
Angel said she applies mixing and matching clothing in designing her own bedroom.
"I tend to mix and match stuff. That's probably what fashion naman teaches me also."
INTERIOR DESIGN IS IMPORTANT
If there is anyting that Angel has learned so far from her latest venture, it is that interior design is important.
"At the end of the day you would like to come home to a place that relaxes you and that you'll like being in… a place where you can just breathe and be yourself and know that it's you.
"That is your space and you own it… and everything around it tells you that it's yours. That's what's important about interior design."