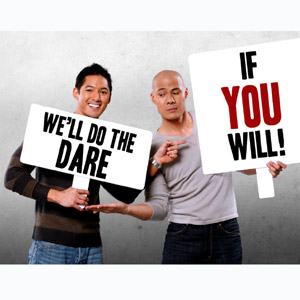 Marc Nelson (left) and Rovilson Fernandez (right) are the hosts of Q Channel 11's new show called
Dare Duo.
It will air it pilot episode this Saturday, March 14, at 8:10 pm.
Photo: Courtesy of Q Channel 11

Amazing Race Asia 2 best buddies Marc Nelson and Rovilson Fernandez are back for more dares in Q Channel 11's Dare Duo.
The Philippine representative—and third place winner—in the second season of the Asian counterpart of Amazing Race are back together in a new reality show called Dare Duo. It will air its pilot episode on QTV-11, the sister station of GMA-7, this Saturday, March 14, at 8:10 pm.
A 'bucket list' type of show mixed with dares and challenges, Dare Duo has three segments: Marc versus Rovilson, the audience' challenge and the celebrity challenge. The wacky, glib-tongued accented pair will try to do the best they can in any challenge presented to them as long as there will be no animal cruelty, nothing that will be disrespectful to our family or sacrilegious," as defined by Rovilson, the California-raised host of another Q Channel 11 show Ang Pinaka.
"Other than that, we can go out of our comfort zone as long as it's a legitimate challenge," adds Marc with his strong Australian accent. He is formerly the host of Q Channel 11's The Debutante.
'We are being reminded by our producers that this is a family show,' jests Rovilson when asked how daring they could go.
The show's flyer can sum up how extreme the two guys can go: Marc and Rovilson did a 'Blaze of Glory' stunt complete with the most colorful sequined outfits. Also in the pilot episode, Marc and Rovilson will try to stage a bridal shower.
Tasked to organize the party for the bride-to-be, they will also provide the entertainment for the evening. This means the two doing some sexy dancing in front of the lady guests, a first time for both.
'The thing is, the show is not just about challenges, it's inspirational. Things they wish they can do, we will help them do it,' explains Marc over lunch in Via Mare in Tomas Morato earlier today, March 10.
When asked to describe he things that they are personally afraid of, Rovilson said ghosts and he revealed that he and his partner Marc are also wary of carbs (carbohydrates).
Cemeteries are okay for Rovilson as long as he won't step on any grave. For haunted houses, "as long as the person who dared me to enter is with me but I still have to think about this very hard or Marc can do it for me."
If asked to join a gay beauty contest, will they do it?
"Your suggestions are scaring me, get out of the room, thank you for coming," jokes Marc.
Dare Duo is their third show together after AXN Amazing Race 2 and The Duke.
Marc is Burmese-Australian. His mother is of Burmese origin born in Scotland but raised in Burma and Thailand. His father is of Chinese-Burmese blood but migrated in Australia where Marc was born. An actor, host and model, Marc has several endorsements under his belt including Colgate, Kenny Rogers, SM Department Store and SEAir.
Rovilson is Filipino but born and raised in San Jose, California. He moved to Manila in 1999 and is currently the executive editor of a local men's magazine.
Both professed to be single although Rovilson is reportedly dating Vanessa Chong, the older sister of Malaysian singer Vince Chong whom he met in Amazing Race Asia. As for Marc, when asked about his status with co-Kenny Rogers endorser Paula Taylor, he answered they're just friends.